STORY HIGHLIGHTS
Miners put a brave face on a disaster in its 44th day
Independence Day marked by music, dance and empanadas
"For me, there's nothing to celebrate"
Copiapo, Chile (CNN) -- Half a mile underground, the hollow echo of the Chilean national anthem rings out. And slowly, the red, white and blue Chilean flag is hoisted up a makeshift metal flagpole.
These are the opening images of a new, nine-minute video the 33 miners sent Saturday from the cavern where they're trapped 700 meters (2,300 feet) down. They were putting a brave face on disaster to celebrate Chile's Independence Day in their own way.
It was left to Bolivian Carlos Mamani, the only one of the men who is not Chilean, to record an Independence Day message.
"I would like to send a special message to Chilean President Sebastian Pinera for helping us all in this difficult time. I would also like to send a message of thanks to Bolivian President Evo Morales who has been supporting my family," said Mamani, originally from the Bolivian mining town of Oruro.

Video: Team plots next step in rescuing miners

Video: Baby 'Hope' born to trapped miner

Video: Capsule will raise trapped miners

Video: Drill bit reaches trapped Chilean miners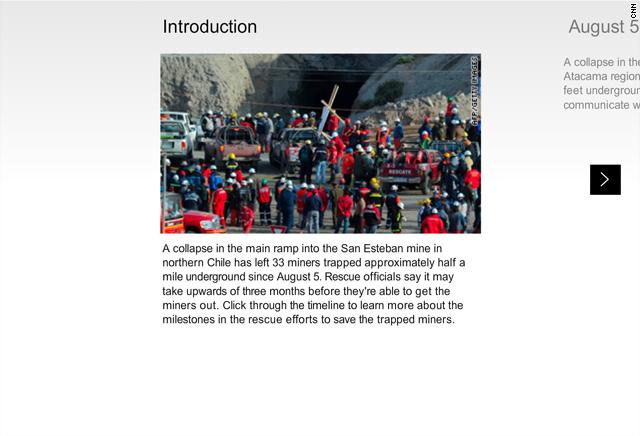 At one point in the video, Mario Sepulveda waves a white towel in one hand and his miner's helmet in the other and demonstrates some nimble footwork as he dances Chile's national folk dance known as the "cueca."
Other miners clap and music plays from one of the MP3 players rescuers have sent into the mine to entertain the men.
Sepulveda jigs around in lightweight rubber boots, a red T-shirt and blue shorts -- items of clothing that were sent down to him and the other miners via an 8-cm (4 inch) borehole nicknamed the "umbilical chord." The hole was drilled into the mineshaft after they were discovered alive on August 22. Since then, all emergency supplies, including food, water and clothing, are sent down the narrow shafts.
The San Jose mine, in the northern Atacama Desert, caved in on August 5 and the men were initially feared dead. Prior to the accident, Sepulveda's job was to drive a backhoe, known as a "scoop," inside the mine.
Since then, he has emerged as a quick-witted joker and has taken the role of narrator in the videos the miners have sent to the surface -- recounting their plight with good spirits and humor.
At one point, the video shows a live news broadcast projected onto the wall of the cavern where the miners have been holed up and which they have dubbed "Refuge 33."
The news show covered Independence Day celebrations across Chile. The miners now have permanent communication with rescuers on the surface via a telephone line and a fiber-optic cable for video-conferencing.
A TV signal can be piped into the mine and run through a handheld projector, which beams out a 21-inch image.
As a special Independence Day treat, the miners were given a menu of traditional Chilean "empanadas," a pastry filled with a mixture of meat, onions, olives and raisins.
The video showed them receiving the "empanadas" vacuum-sealed in a plastic wrapper and dispatched from the surface in a metal cylinder rescue workers call the "carrier pigeon."
On the surface, the miners' families continue to wait in a makeshift tent village at the mine entrance called Camp Hope.
Many organized cook-outs -- a typical part of Independence Day celebrations -- and barbecued ribs, filet steak and chicken wings.
But the family of trapped miner Victor Zamora said they had little to celebrate this year.
"We're sad because Independence Day is a family day and we used to go for a walk with my baby in our favorite park," said Zamora's wife, Yesica Cortes. "But today we're sad."
Inside, Zamora's mother Nelly Bugueno prepared broth and chopped salad. She said she was sure the miners were just putting on a show for the camera in the videos they had recently sent to the surface.
She said she believed they were depressed and distraught by their plight.
"Victor's pain is my pain," Bugueno said. "For me, there's nothing to celebrate. It's just that Victor asked us to be together this day. As long as they are underground, there's nothing to celebrate. We'll celebrate independence when they come out."
Zamora, who has a 4-year-old son Arturo, has emerged as the poet among the 33 trapped miners. He has composed rhymes praising the rescue workers and the valor of his fellow miners.
"He's discovered something beautiful down there," his mother said. "He writes letters likes poems."
"I guess he's discovered that talent because he was was in pain being so far from his loved ones," wife Cortes said.
Chilean President Sebastian Pinera is scheduled to visit the San Jose mine and inspect rescue operations Sunday. As evening fell Saturday, three military helicopters overflew the mine in what government officials said was a "practice run" for Sunday's presidential visit.
Sources among the rescue workers said Pinera may mark his visit by flipping the switch on a powerful oil drill that has been transported to the mine to assist in the rescue. The Canadian-owned Rig 421 drill has been assembled but not yet begun drilling.
Mine experts say that the drill -- known as Plan C -- could be the fastest way of punching a hole through rock that is wide enough to hoist the miners back to the surface.
However, two other drills, a Schramm T-130 (Plan B) normally used for boring water holes and a Raise Borer Strata 950 (Plan A) normally used for drilling ventilation chimneys in mines have been operating for around three weeks.
On Friday, the Schramm T-130 reached a depth of 623 meters (2,044 feet) and penetrated the roof of the workshop area close to the miners' shelter. However, the shaft is only about 12 inches wide and the drill must make a second pass to widen the hole to a maximum 28-inches (70 cm).
The Chilean government says the miners could be rescued by late October or early November, an improvement on earlier predictions that the operation could take until Christmas.
FOLLOW THIS TOPIC