14 injured in Mexican grenade attack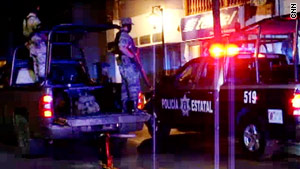 Soldiers and police officers went to the sqaure in Guadalupe, Mexico, after the grenade exploded Saturday night.
STORY HIGHLIGHTS
An unidentified assailant threw a grenade in the municipality of Guadalupe
The gunmen got away
Eight minors were among those injured
Mexico City, Mexico (CNN) -- A grenade blast near Monterrey, Mexico, wounded 14 people late Saturday, including eight minors, the state-run Notimex news agency reported, citing local officials.
No fatalities were reported as of Sunday afternoon from the attack on a public square by unidentified assailants, in the suburb of Guadalupe.
The incident happened before midnight in front of the city hall for Guadalupe.
According to witnesses, gunmen in two vehicles stopped near the building, and one person stepped out, took some steps, and threw the grenade in an area where families were walking by, Notimex reported.
The Mexican military, a local bomb squad and police responded to the scene after the explosive device went off, the news agency said.
Monterrey is one of Mexico's leading business centers. It is the capital of the state of Nuevo Leon, which has witnessed much violence as rival drug cartels fight with each other over lucrative smuggling routes and with the federal authorities.
Investigators were looking at Guadalupe police officers who allegedly helped the gunmen get away, Notimex reported.
Last Friday, three grenade explosions were reported in Monterrey: one in front of the justice center, one at a prison and another near the U.S. consulate there.
FOLLOW THIS TOPIC