STORY HIGHLIGHTS
Officials say drilling through to trapped miners is but one stage in process
Men survived off water, canned fish and peaches for more than two weeks
Contact with loved ones, birth of a fellow miner's baby helped buoy the men
Rescuers fear that men could have adverse reaction to sun, germs
(CNN) -- The first couple of weeks had to be the hardest.
There were no dominoes, no fresh air. The 4-inch-wide boreholes through which the 33 miners receive tubes filled with food, water and other necessities would not be drilled for 18 more days.
The mine collapsed August 5, blocking the main ramp into the mine. Thirty-one miners quickly found a "workshop" in one of the mine's caverns, while two others followed an errant white butterfly to the refuge after the dust cleared.
Water and batteries were in the shelter, and the men survived off canned fish, a jar of peaches and moxie until a drill bit pierced the stuffy dungeon's ceiling August 22. The men attached to a probe a note scrawled in bold, red letters on a ragged piece of paper.
"We are fine in the shelter, the 33 of us," it said.
The world turned its head in surprise, Chileans flocked to their plazas to rejoice, and a previously pessimistic media that had seen too many mine disasters end in calamity booked its flights to the South American nation.
On Saturday, weeks ahead of schedule, rescuers drilled through to the shelter that the men have called home for more than nine weeks. They finished encasing part of the 28-inch-wide escape tunnel in steel Monday.
A winch system capable of lifting 400 tons is in place, and officials say they are waiting only for its concrete base to harden. The rescues could begin as soon as Tuesday night.
Using three specially designed capsules -- each dubbed "Phoenix" after the mythical firebird that rose from the ashes -- rescuers intend to pull the men out one at a time. The order will be determined by the men's mining experience, health conditions and emotional states.
While the families who have stood vigil at Camp Esperanza are quick to cheer any progress in rescuing the men, Chilean Mining Minister Laurence Golborne is cautious. He is reluctant to make promises and reminds those at the makeshift tent village that rescuers have saved no one yet.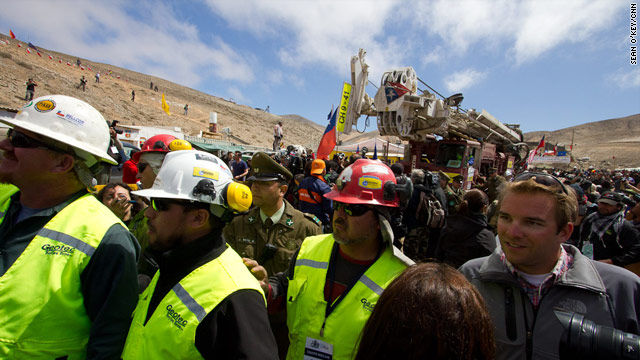 Gallery: Breakthrough at Chile mine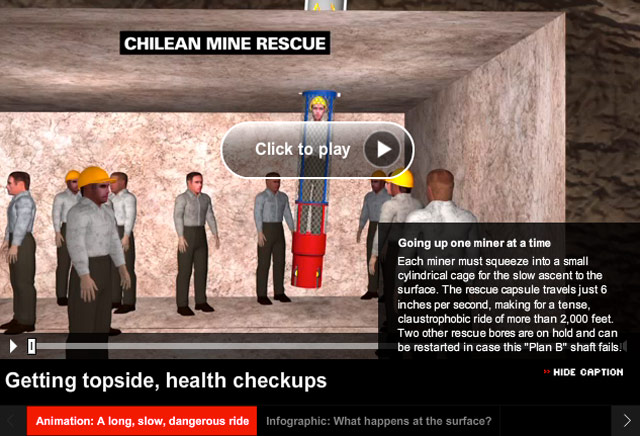 Explainer: Getting to the surface

Video: How the rescue procedure works

Video: The race to rescue the miners
Drilling the escape tunnels, it appears, is but one stage in each miner's rescue and recovery.
See what happens when they get to the top
By the time they are extracted, they will have been beneath the earth for about 1,700 hours. Much of that time will have been spent in the "Refuge 33" shelter that measures 538 square feet, the size of a cozy studio apartment.
A 3-foot-high, 130-foot-long shaft has served as their lavatory.
The temperature at times has hovered near 85 degrees, and about 2,300 feet of rock separates them from the surface. That's more than seven football fields deep. The tallest building in the United States, the Willis Tower in Chicago, Illinois, stands 1,450 feet high.
Each time rescuers received footage of the men, their spirits appeared remarkably intact. The first glimpse of the men came August 23, the day after rescuers learned they were alive. The men were jubilant and, with the exception of one Bolivian, broke into their national anthem.
"I saw them jumping like children, with an infinite joy," relayed President Sebastian Pinera.
The next day, a microphone was lowered down the shaft.
"How are you doing?" asked Golborne.
Miner Luiz Urzua responded, "We are well and hoping that you will rescue us."
Their well-being has been the No. 1 priority since. Except for eye irritation from the dust, the men had no real injuries. Health officials' top concern has been making sure their bodies and minds don't atrophy.
Read about their daily routine
Officials packed long metal tubes -- called "carrier pigeons" -- with oxygen, vaccines and sustenance, liquid proteins and vitamins at first because the men were not ready for solid food.
They also received playing cards, dominoes and a Chilean flag. Mario Gomez, who has been mining since he was 12, became the group's spiritual leader and requested a crucifix and statuettes of saints so the men could construct a shrine.
A handful of miners were having trouble sleeping and showing signs of depression. Jimmy Sanchez, the youngest miner at 19, told his girlfriend he is afraid of the dark, confined spaces and the spirits of dead miners -- a harrowing trifecta for a man in his predicament.
But Chilean men have a reputation for being macho (the miners distanced their phone from the group so they don't see each other cry). Sanchez dutifully put on a brave front in a letter to his mother.
"I want to eat so many things. I'm hungrier than ever. All these days I've been dreaming about my mom cooking for me. That will happen soon. After the bad comes the good," he wrote.
On August 26, the men sent up video showing their cavern illuminated by flashlights and the fuzzy beams of their miner helmets. The men were some combination of bedraggled, bearded or bare-chested, yet they expressed their utmost gratitude to their families, the rescuers, Pinera and God.
Watch scenes from the first video sent up

One joked that a pile of rocks was "a box-spring bed." Another pointed to a fellow miner and quipped, "This guy doesn't want to get out of here because then he'll have to take a shower."
And one appeared to hold back tears as he thanked "those who are dedicating their time to ensuring that this ends well."

Video: Miners' families wait for rescue

Video: Rescue capsule a tight fit

Video: 24 hours in a Chilean mine

Video: Driller talks miner rescue mission
The men seemed happy given their circumstances, but rescuers remained concerned about their mental states. When Pinera first talked to them, he avoided telling them it would be an estimated four months before they'd be saved.
He instead floated a hint: They would be spending Independence Day, September 18 for Chileans, in the mine.
By September, the men had received dozens of carrier pigeons. They were told to drink a gallon of water a day, and their menu was upgraded to tea, fruit, sandwiches, yogurt shakes and shredded meat with rice.
Watch what their lives have been like
(In Chile, the latter is served with beans, but rescuers decided men in such close quarters didn't need to deal with intestinal gas.)
Though the men were ingesting 2,000 calories a day, they'd all lost weight, some as much as 30 pounds. Rescuers said it's a good thing because nine of the miners were too big to rescue through a 28-inch-wide hole.
Imagine being trapped in a mineshaft for weeks and having someone tell you you have to diet to be saved.
Later in the month, as three drills ground through solid rock toward them, the men broke into three eight-hour shifts: one for work, one for sleep, one for play.
A trainer devised an exercise regimen for the men, and some even went for jogs through the mile or so of tunnels that were still traversable.
The men also assigned themselves duties. One miner, an Elvis Presley fan, led the group in sing-alongs. Victor Segovia kept a journal (which doubtless will arrive on a publisher's desk). And Yonni Barrios' nursing experience made him the group's "Dr. House," so named for the American television show that's so popular in Chile.
The regimen appeared to keep the men happy, and a host of touching moments and creature comforts buoyed them along the way:
• The pope prayed for them and said he is entrusting them to St. Lorenzo, one of the men's patron saints.
• They spoke for brief periods to family members.
• Rescuers sent down a projector, press clippings about the rescue, a recording of the Chile-Ukraine soccer match and MP3 players with Latin music.
• At the miners' request, rescuers also sent down a book on public speaking so the miners could talk eloquently to the press after they're saved.
• Once ventilation was improved, the 14 smokers in the group were given a ration of cigarettes, but they were made to walk more than a quarter of a mile to one of the hottest parts of the mine for a drag.
• In late August, miner Esteban Rojas asked his wife of 25 years to marry him again, this time in a traditional church ceremony.
• And all the miners joined in Ariel Ticona's glee when his wife gave birth to a girl September 14. He watched it with his brother, Cristian, who was at Camp Esperanza, which means Hope in English. Said Ticona's wife, "We're calling her Hope, first, because we never lost hope. Second, because it's the name of the camp where the families are living. And third, because the 33 miners never lost hope either."
Read how Esperanza brought miners hope
The whole country will be overjoyed. We will jump and cry with happiness when the Earth returns them to us.
--Juan Inzunza, cook at Camp Esperanza
Those at Camp Esperanza have been a hopeful bunch. Their demeanors brightened at news of the drills' progress. When the 900-pound Phoenix capsules and accompanying winch arrived, they cheered as if they were rooting on La Roja in the World Cup.
They hugged, cried and popped champagne upon hearing news the drilling was complete. They're as ready as the miners for a rescue.
Trainer Jean Romagnoli, who developed their exercise regimen, said last week that the miners are in "perfect" psychological and physical condition for the extraction. Clinical psychologist Erik Fischer added it was important the men kept busy clearing the rubble that the drill chipped into the mine.
"If they have a sense of empowerment, then they often are going to feel better about the situation and feel that they've done something to affect their outcome," he said.
But health officials are taking no chances.
The men haven't been exposed to sun or the germs on the surface in more than two months, so rescuers want to make sure they don't fall ill or damage their retinas. There are also concerns about their blood pressure and post-traumatic stress disorder.
Six hours before their rescue, the miners will go back to their liquid diets. After reaching the surface, they will undergo two hours of examinations at a field hospital before a brief reunion with one or two immediate family members, officials said. They'll then be airlifted to the hospital in Copiapo, about a 15-minute flight.
Pulling the men from the mine may not end their ordeals, but Chileans such as Juan Inzunza, who came to Camp Esperanza to cook for the families, will be happy just to see them on the surface.
"The whole country will be overjoyed. We will jump and cry with happiness when the Earth returns them to us," he said.
CNN's Karl Penhaul and Patrick Oppmann contributed to this report.
FOLLOW THIS TOPIC