STORY HIGHLIGHTS
World tunes in Wednesday night to watch what started off as a tragedy
The miners have been trapped for more than two months
"This is more than a story, it's a global community event," a professor says
(CNN) -- It was reality television at its best.
Much of the world tuned in to watch what started off more than two months ago as a tragedy, but appeared Wednesday to be headed for a happy ending.
That's when 33 miners who had been trapped nearly half a mile underground outside Copiapo, Chile, began to emerge individually from the depths of the Earth.
As the "Phoenix" capsule carrying one miner at a time made its ascent, families from as far away as Sri Lanka and China huddled around televisions, their eyes glued to the screen.
"I'm overwhelmed with happiness," Shari Atukorala said from Sri Lanka, tears rolling down her face as she watched the events unfold on CNN. "This is a very emotional moment."

Video: Freed after 69 days underground

Video: Bringing countries together

Video: Camera shows view inside tunnel

Video: World riveted by mine rescue
Juan Lopez was watching from his home in Mexico City.
"I can't help but think of my grandfather, Cristino, who was a silver miner in San Luis Potosi -- a state in the center-east of Mexico," he said in a submission to CNN's iReport. "My grandfather would be happy to have the focus on miners because the world rarely focuses on the dangerous conditions they work in."
With each miner's rescue, the world seemed to heave a collective sigh of relief.
"I mentioned on Twitter how, 41 years ago, the world watched men walk on the moon," said Connie Preti, a New York resident. "Today we are seeing men come out from the earth. It's equally striking."
Even the pope spoke about the ongoing rescues, saying in Spanish on Wednesday that he entrusted the miners to "the divine goodness" of Angela of Foligno, who was beatified in the 1600s.
"Thank you very much!" Pope Benedict XVI said. "God blesses you!"
As cheers and applause from the rescue team in Chile rang out, the nation's ambassador in Washington was hosting an outdoor "watch party" filled with frenzied fans.
"Chi! Chi! Chi! Le! Le! Le!" the crowd in the U.S. capital chanted every time a miner surfaced.
"This is more than a story, it's a global community event," said Yuen Ying Chan, professor of journalism at the University of Hong Kong.
"People are mesmerized by it because it's not only a strong human interest story, but it involves a great number of people, has a lot of suspense, deals with life and death, and ultimately sparks people's curiosity," Chan said.
She added that viewers were captivated because they could be a part of it online through social media and other outlets.
While many social media tools from the West -- Twitter, Facebook and Foursquare, for example -- are blocked in China, China has developed homegrown versions of Twitter-like program, which have become widely popular.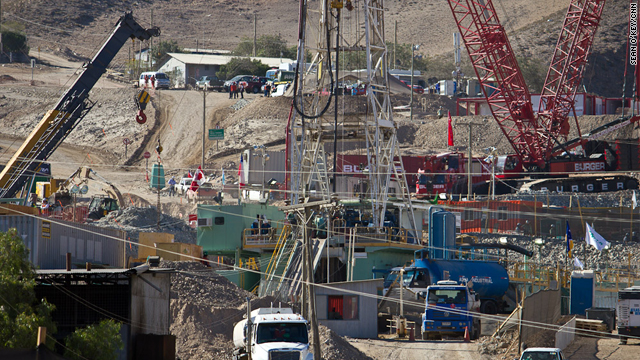 Gallery: Breakthrough at Chile mine
A user by the name "@days up in the air david" posted a comment on Sina Weibo, China's version of the microblogging site Twitter, stating:
"Chile invites all the media around the world, and turns the accident to an opportunity for world to know about Chile's rescue technology and know about Chileans," the post said. "On the contrary, mine accidents in China are about concealing and tragedy."
China, one of the world's largest producers and consumers of coal, has one of the world's deadliest records for miners. Reports of miners being injured or killed appear regularly in state media.
For Chile, it was a moment of national pride.
"This rescue operation has been so wonderful, so clean, so emotional, so there was no reason not to let all the eyes of the world see it," Chilean President Sebastian Pinera told reporters. "This is why you had access."
One by one, the miners -- wearing sunglasses and clad in green "breathable" suits -- arrived at the surface and stepped out of the capsule -- images that were broadcast around the world from a government camera.
Then, following a protocol devised by the rescuers to ensure the miners' safety, each man was placed on a gurney and wheeled into a private medical area out of view of the cameras.
U.S. President Barack Obama on Wednesday praised the rescue workers and government in Chile for the effort, saying the story "inspired the world."
Obama said the world watched the rescue of the first miner and his embrace of his family upon reaching the surface.
"The tears they shed after so much time apart expressed not only their own relief, not only their own joy, but the joy of people everywhere," he said.
CNN's Tom Cohen contributed to this report.
FOLLOW THIS TOPIC