Mexican officials ID 13 people killed in Tijuana drug rehab center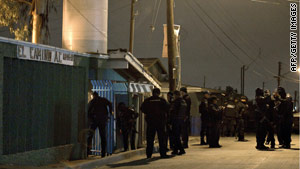 Mexican federal police investigate the shootings at a Tijuana rehab facility on Sunday, October 24.
STORY HIGHLIGHTS
NEW: The attack is similar to previous killings at drug rehab centers
Victims in Tijuana shootings ranged in age from 19 to 56 years old
Four men opened fire inside a rehab center, fled in a vehicle, state-run news agency reports
Sunday night's killings in Tijuana came one day after 14 people were killed at a Juarez party
Mexico City, Mexico (CNN) -- Mexican officials have identified 13 people killed Sunday night in a Tijuana drug rehabilitation center, the state-run news agency said Monday.
Four heavily armed men stormed into the Centro de Rehabilitacion El Camino and opened fire, the Notimex news agency said. The reported ages of those killed ranged from 19 to 56 years old.
The assailants escaped in a vehicle, the news agency said.
The dead were identified as: Irineo Godinez Garcia, 47; Antonio Mesa Contreras, 56; Bernabe Alvarez Piceno, 35; Jose Lopez Sauceda, 28; Fabian Gonzalez Zea, 19; Juan Daniel Casi Esquer, 32; Wilson Ramírez Pena, 42; Joaquin García Hernandez, 39; Jorge Palacio Goya, 37; Pedro Villegas, 30; Juan Roberto Sanchez Ortega, 30; Edwin Vargas Avila, 33; and Salvador Bustos, 30.
The slayings occurred one day after armed men burst into a house party in Ciudad Juarez and opened fire, killing 14 people and wounding 14, Notimex said.
The ages of those killed in Juarez ranged from 14 to 30, Notimex said. Children as young as 7 and 11 were among the injured, the agency reported.
The attack in Juarez was reminiscent of an incident in January, when drug cartel gunmen stormed a house party and killed 15 people. Most of the victims were youths who had no ties to organized crime.
Investigators said the January shooting was a case of mistaken identity caused by bad intelligence. It sparked widespread outrage in the violent border city, including calls for Mexican President Felipe Calderon to resign.
The Tijuana slayings also were similar to previous attacks carried out at drug rehab centers. A massacre at a Juarez rehab facility in early June left 19 dead. Twenty-seven people were killed in September 2009 in two attacks at separate drug facilities in Ciudad Juarez, the bloodiest city in the nation.
Officials said the previous attacks were done by drug gangs killing members of other gangs.
At least 2,500 people have been reported killed in drug violence this year in Ciudad Juarez.
Nationwide, more than 28,000 people have died in drug-related violence since December 2006, when Calderon took office and stepped up efforts to fight organized crime and narcotrafficking cartels.
Much of the violence in Ciudad Juarez and other areas of northern Mexico is due to the drug cartels fighting for control of lucrative routes into the United States, authorities have said.
FOLLOW THIS TOPIC