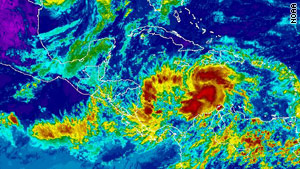 The National Hurricane Center says Tomas could dump 5 to 10 inches of rain over much of Haiti.
STORY HIGHLIGHTS
NEW: Tomas could be near hurricane strength by landfall
Storm could hit Haiti early Friday
Public health officials fear that it could exacerbate Haiti's cholera outbreak
Are you in Tomas' path? Share your photos and videos, and let us know how you're preparing for the storm.
Miami, Florida (CNN) -- Tropical Storm Tomas crept slowly across the southern Caribbean Wednesday evening, inching toward Haiti and a possible early Friday morning landfall on the earthquake-devastated nation.
Earlier in the day, Tomas -- which slammed into St. Lucia Sunday as a Category 1 hurricane -- fell to tropical depression status but strengthened again just a few hours later.
Haiti is under a tropical storm warning and a hurricane watch, while the governments of Cuba, the Dominican Republic and the Bahamas have issued tropical storm watches. A tropical storm watch is also in effect for Jamaica.
Watches mean storm conditions are possible with the watch area, usually within 48 hours. Warnings mean storm conditions are expected within the warning area within 36 hours.
The official National Hurricane Center forecast track shows that Tomas is likely to make landfall in southwestern Haiti around 1 a.m. Friday as a tropical storm, which would mean sustained winds between 39 mph (63 kph) and 73 mph (117 kph), with higher gusts. But, they said, the storm may be approaching hurricane strength -- 74 mph (118 kph) -- by that time.
Public health officials are especially concerned because of a cholera outbreak in Haiti that has killed more than 300 people and could worsen with the coming storm.
Tomas could dump enough rain for accumulations of 5 to 10 inches over much of Haiti, some of which could cause life-threatening flash floods and mudslides, the hurricane center said.
Haiti's president and prime minister held an emergency cabinet meeting to discuss evacuations of coastal communities, the United Nations said Wednesday.
And the United States has deployed the amphibious naval ship Iwo Jima to provide humanitarian support, the U.S. Southern Command said.
As of 8 p.m. ET, Tomas had winds of 45 mph (75 kph) and was centered about 300 miles (485 kilometers) southwest of Port-au-Prince, Haiti, and about 240 miles (385 kilometers) south-southeast of Kingston, Jamaica, the center said. It was moving west-northwest at 6 mph (9 kph).
A turn toward the northeast is expected over the next two days.
With the possibility of landslides, flooding and washed-out roads and bridges in Haiti, the United Nations was scrambling to get supplies to key staging areas on the island, a U.N. spokesman said Tuesday.
"Supplies are being pre-positioned notably in Jeremie, Les Cayes, Jacmel and Leogane, which are expected to experience the storm more severely," according to Martin Nesirky with the U.N. Office for the Coordination of Humanitarian Affairs.
Tomas hit the West Indies island of St. Lucia as a Category 1 hurricane on Sunday morning and caused major damage by the time its winds subsided Monday night.
The death toll attributed to the storm rose Tuesday to 12, and St. Lucian Prime Minister Stephenson King issued a declaration of disaster.
"No one could have adequately prepared for the event as the hurricane moved very slowly, a mere 8 miles per hour over the country, and deposited two years' annual rainfall in a 24-hour period," said June Soomer, an official in the prime minister's office.
"Roads and bridges have collapsed, schools damaged ... homes have been destroyed," Soomer said. Some towns, including Soufriere on the southwest coast, were reachable only by sea, she said.
But two bridges in the north have been partially reopened so people can get from the fishing village of Gros-Islet to the capital city, Castries, she said.
Hewanorra International Airport has reopened.
Aid from the United States and France was expected to arrive Tuesday to help clear roads, she said.
But access to fresh water remained a concern: Soomer predicted that damaged water mains would be "at least halfway back to normal" by the end of the week.
Tomas also caused damage on St. Vincent, where two people were injured when they attempted to fix roof damage during the storm, officials said. The storm sent about 1,000 people into shelters, said Michelle Forbes, acting director of National Emergency Management.
November hurricanes are rare, CNN meteorologist Bonnie Schneider said. The Atlantic hurricane season ends November 30.
FOLLOW THIS TOPIC