Venezuelan official sought by Spain in court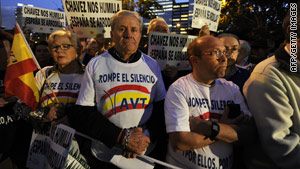 Protesters in Madrid call for Arturo Cubillas' extradition to Spain.
STORY HIGHLIGHTS
Spain says the official, who was born in Spain, helped to train Basque separatists in South America
The official, Arturo Cubillas, is a high-level member of Hugo Chavez's leftist government
Cubillas, a naturalized Venezuelan, denies helping to train members of the ETA separatist group
Venezuela says its citizens cannot be extradited
(CNN) -- A high-level Venezuelan official wanted by Spain in connection with links to a Basque terrorist group was due to testify Wednesday in a Venezuelan court looking into his extradition, the South American nation's top prosecutor said.
Spain has requested the extradition of Arturo Cubillas, a Spaniard deported to Venezuela in 1989 and who works in the Agriculture Ministry of the leftist government of President Hugo Chavez.
Spain says Cubillas gave explosives training in Venezuela to members of the ETA Basque separatist group, classified as a terrorist organization by Spain and France as well as the European Union and the United States.
Two ETA rebels captured in September told Spanish authorities that they received the training in a summer 2008 course in which Cubillas participated, officials in Spain said.
Cubillas said in a published interview last month that he has never taught any such course.
Spanish Judge Eloy Velasco asked last week for the extradition of Cubillas, a naturalized Venezuelan citizen. But Venezuela's top prosecutor, Luisa Ortega Diaz, said Venezuelan citizens cannot be extradited.
"At the international level," she said Tuesday, "people can opine, suggest or say. The decision falls on Venezuela."
Spanish officials said last week they trust Venezuela to do the right thing.
Ortega said Tuesday on the state-run VTV network that Venezuela has not received a formal extradition request from Spain.
"The public ministry has no knowledge that his extradition has been formally requested," she said.
In turn, she said, Spain has yet to reply to a Venezuelan extradition request for General Nestor Gonzalez, who Venezuela accuses of having taken part in a failed 2002 coup attempt against Chavez. Venezuelan officials don't know where Gonzalez is at the moment but have information that he will be in Spain on November 15, Ortega said.
"Let's see if they respond with the same efficiency with which they talk," Ortega said.
"We, as an institution that guarantees legality and with a foundation on the extradition convention that exists between both countries, request that they extradite this citizen wanted by Venezuelan justice," the prosecutor said.
FOLLOW THIS TOPIC