President-elect: Brazil will keep Iran ties, remain global player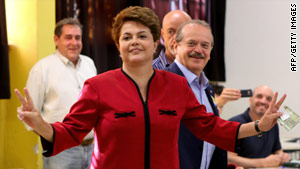 "We don't believe that war is the method to solve conflicts," says Brazil President-elect Dilma Rousseff.
STORY HIGHLIGHTS
President-elect Dilma Rousseff says ties with Iran will be for peaceful purposes only
Brazil will continue to be a voice for Latin America, she says
Rousseff became the first woman elected president of Brazil
She worked in Luiz Inacio Lula da Silva's administration, and will continue his polices
(CNN) -- Brazil will maintain its ties with Iran, but always for peaceful ends only, the country's president-elect, Dilma Rousseff, said in an interview with CNN en Español. She added that war is not the way to resolve international conflicts.
"We don't believe that war is the method to solve conflicts. You will never see Brazil occupying itself with war," Rousseff said. She spoke to CNN en Español's Patricia Janiot in her first international interview since winning the presidency on Sunday.
As Brazil plays a increasingly larger role in international affairs, Rousseff said her country is committed to "systematically defending peace in the Middle East and the rights of those countries, including Israel and Palestine, to have their states."
With respect to Latin America, the president-elect said that she would amplify the voice of "this strategic relationship to the maximum" so that region's voice could be heard on the global stage in a coordinated way.
Rousseff, of the ruling Workers' Party, became the first woman elected president of Brazil after beating rival Jose Serra in the second round of the elections.
"My election is a milestone, not because I was elected, but because I represent a process in which Brazilian women are increasingly aware of their role," said Rousseff, who takes office on January 1, 2011.
"The most important message that we can transmit to women is the affirmation that women can be presidents ... women have all the potential that men have. There's differences, but they are not unequal," she said.
Before being elected, Rousseff was minister of mines and energy in the government of President Luiz Inacio Lula da Silva between 2003 and 2005, and then chief of cabinet from June 2005 on.
Since then, many have have wondered if there would be a change in the government's trajectory or if she would opt for the continuity of policies that seem to have worked.
Rousseff emphasized her important role in Lula's government.
She helped Lula's government be a good government, she said. "So Lula's legacy is also partly mine. I had a direct hand in a majority of the government programs," she said.
"My government is going to have my face, my style," she added. The style may be different, but she said the bulk of the policies will be the same.
"We now have the opportunity to do more and better than what we have already accomplished because Brazil is in an extraordinarily better situation than when Lula's government started in 2003," she said.
FOLLOW THIS TOPIC