Peruvian court grants parole to imprisoned U.S. citizen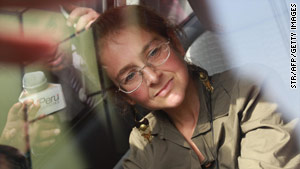 Lori Berenson, shown in a car after leaving prison in May, may soon be a free woman.
STORY HIGHLIGHTS
Lori Berenson, sentenced for aiding leftist rebels, could soon be released from prison

She was supposed to be released earlier this year, but remained in prison on technicality

Berenson's family says prosecutor likely to appeal parole decision

(CNN) -- A Peruvian court has granted parole to a U.S. citizen who has been imprisoned since 1995 for aiding leftist rebels.
Lori Berenson has already served 15 years of a 20-year sentence for collaborating with the Tupac Amaru Revolutionary Movement to attack the nation's congress and overthrow the government. She was released from Lima's Chorrillos Penitentiary in May only to be reincarcerated on a technicality, according to her family's website, freelori.org.
"The judge in charge of Lori's parole application has, once again, granted Lori parole on the grounds that she has fulfilled all necessary requirements," her family wrote Friday on the site.
"Unfortunately, it is expected that once again the State Prosecutor will appeal this decision to a higher court -- a process that could take another two-to-three months."
Berenson gave birth to a son in prison in 2009 who was fathered by Berenson's estranged husband, a Peruvian lawyer who represents her. The young boy lives with her in prison.
Journalist Maria Elena Belaunde contributed to this report.
FOLLOW THIS TOPIC