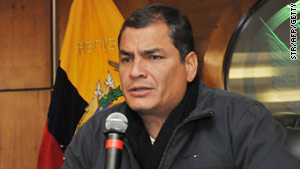 In September, President Rafael Correa of Ecuador was briefly taken hostage by police officers upset about their pay.
STORY HIGHLIGHTS
Foreign ministry appears to offer to expedite residency for Julian Assange
Assange was rejected for residency in Sweden last month
Ecuador has faced unrest in recent years
(CNN) -- Ecuador Monday invited WikiLeaks founder Julian Assange to come to Quito to discuss documents leaked on the site relating to Ecuador and other Latin American countries, according to a statement from the country's foreign ministry.
The ministry also offered to process a request for residency "in accordance with the country's current laws."
Assange, an Australian, was rejected for permanent residency in Sweden in October. Swedish Migration Board official Gunilla Wikstrom said his application failed to fulfill all the requirements but declined to give details.
Assange faces charges of rape and molestation in Sweden, allegations that came out after WikiLeaks released more than 75,000 pages of documents relating to the U.S.-led war in Afghanistan in July. It wasn't clear if the application's rejection was related to the charges; Assange claims the charges are part of a smear campaign.
In October, the site released more than 400,000 pages of secret documents relating to the Iraq war.

Zakaria: Silver lining in WikiLeaks

New leaks 'a diplomat's nightmare'

WikiLeaks dump: Putting lives in danger?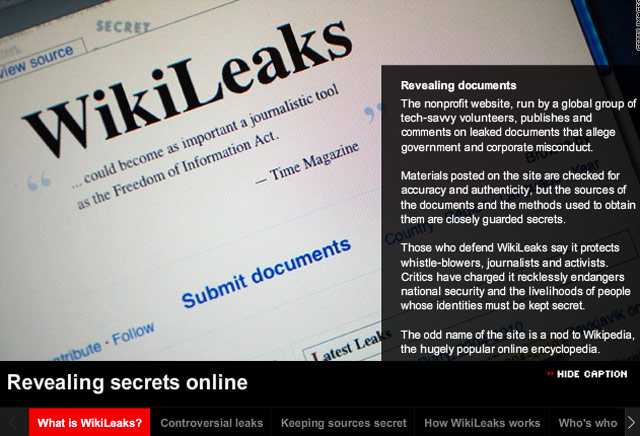 Revealing secrets online
The latest release, which WikiLeaks says will eventually reach 250,000 pages, contains mostly State Department cables sent by American diplomats between the end of 1966 and February 2010. The release prompted widespread condemnation from U.S. officials, and a range of reaction from condemnation to ambivalence from international governments.
Ecuador likely is seeking insight to an occasionally rough relationship with the United States. Last year, the Ecuadorean government expelled two American diplomats over alleged interference in police matters -- apparently relating to drug investigations.
And in September, President Rafael Correa was the victim of an alleged attempted coup d'etat. Correa was briefly taken hostage in a hospital by police officers protesting pay cuts they believed were part of a package of austerity measures. He was later rescued by soldiers loyal to the president.
The government said it suspected former President Lucio Guttierez, who was removed from office by the country's congress in 2005, was behind the attempt, but Guttierez denied that claim.
Correa, who has been president since 2006, has distanced Ecuador from the United States and strengthened ties with Bolivia, Venezuela and Iran.
And last week, he and Colombian President Juan Manuel Santos announced that they would resume full diplomatic relations after more than two years of estrangement.
Ecuador broke relations with Colombia on March 3, 2008, two days after the Colombian military attacked a Colombian leftist rebel camp in Angostura, just inside Ecuador's border with Colombia.
The attack killed 25 people, including Raul Reyes, a leader of the rebel group. At the time, Santos was Colombia's defense minister.
FOLLOW THIS TOPIC