U.N. chief makes urgent appeal to fight cholera in Haiti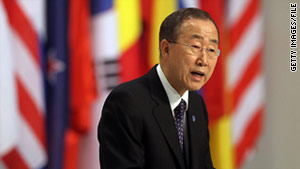 U.N. Secretary General Ban Ki-moon: "Without a massive and immediate international response, we will be overwhelmed."
STORY HIGHLIGHTS
Ban Ki-moon says only 20 percent of a $164 million appeal has been met
More than 1,800 people have died in the outbreak, up to 650,000 more could be sickened
Smaller proportion of infected people dying, Pan American Health Organization says
Most immediate need: more cholera treatment centers, more trained personnel to run them
(CNN) -- United Nations Secretary General Ban Ki-moon made an urgent appeal Friday for more money to fight the cholera epidemic in Haiti that has claimed more than 1,800 lives.
The United Nations had asked for $164 million in mid-November. Ban said that only 20 percent had materialized.
The water-borne disease has not spread to all 10 departments or provinces of the impoverished Caribbean nation, but the latest data from the Ministry of Public Health reported 1,882 cholera deaths and almost 85,000 people sickened. The Pan American Health Organization said the good news is that a smaller proportion of infected people are dying.
In the first weeks of the cholera epidemic, which began in late October, the proportion of hospitalized patients dying of cholera was as high as 9 percent, the health organization said. That number is now down to 3.5 percent.
"This is progress," said Deputy Director Dr. Jon K. Andrus. "There are still too many deaths, and we face many challenges. But the hard work of Haitian doctors, nurses, and community workers and their partners in the international community is, in fact, saving many lives."
But Ban warned that the numbers were rough estimates at best and the outbreak is projected to sicken as many as 650,000 people in the next six months.
"Clearly, it will continue to spread. Unfortunately," Ban said, "this is a function of a particularly virulent strain of cholera as well as underlying issues: a weak national health system, poor sanitary conditions, and the lack of clean water and other basic services."
"Without a massive and immediate international response, we will be overwhelmed," he said.
Symptoms of cholera, an acute, diarrheal illness caused by infection of the intestine, can be mild or even nonexistent. But sometimes they can be severe -- profuse watery diarrhea, vomiting and leg cramps, which can cause rapid loss of body fluids and lead to dehydration and shock.
If left untreated, a person can die within hours.
Ban said the most immediate need was for more cholera treatment centers and more trained personnel to run those facilities.
That includes an estimated 350 doctors, 2,000 nurses and 2,200 support staff over the next three months and about 30,000 community health workers and volunteers to run an estimated 15,000 oral rehydration points.
"This will not be a short-term crisis. We cannot think short-term in our response," Ban said. "The people of Haiti deserve nothing less."
FOLLOW THIS TOPIC