Mexican lawmaker stripped of immunity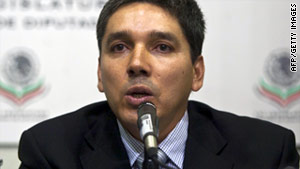 Julio Cesar Godoy is accused of ties with drug traffickers and has been stripped of his legislative duties.
STORY HIGHLIGHTS
Julio Cesar Godoy is suspected of ties with drug traffickers
He was protected from prosecution by law
The chamber of deputies voted overwhelmingly to strip him of his immunity
Mexico City (CNN) -- Mexico's lower chamber of Congress has voted overwhelmingly to strip a lawmaker accused of ties to drug traffickers of his legislative duties, opening up the possibility of prosecution.
Until Tuesday night, Julio Cesar Godoy was protected from authorities by a Mexican law that grants lawmakers immunity from prosecution. That protection was taken away in a 384-2 vote, with 21 abstentions.
Godoy, of the Party of the Democratic Revolution, or PRD, was not present for the vote and his next move was uncertain.
Just days after Godoy was elected in July, President Felipe Calderon's national public security council spokesman announced that Godoy was wanted for serving the Familia Michoacana drug cartel. He is accused of being in charge of protection for the cartel, and allegedly reported to cartel boss Servando Gomez Martinez, known as "La Tuta."
At the time, his party said it would not protect Godoy or any member who has broken the law.
However, authorities never arrested Godoy, and in September, he sneaked through a police line around the congressional building and managed to be sworn in to his seat, providing him immunity.
Tuesday's vote marked the first time that a congressman was removed from office because of links to the cartels, the state-run Notimex news agency reported.
The attorney general's office was waiting for a judge to revoke a court order that protected him because of his status, so that police could arrest him, Notimex reported.
Godoy's half-brother is Leonel Godoy Rangel, the governor of Michoacan state. On Wednesday, the governor said he supported the decision by the congress against his sibling.