Thailand drops North Korea weapons charges
STORY HIGHLIGHTS
Thai officials drops charges against 5 men on plane carrying weapons from North Korea
Pilot from Belarus and four crew members from Kazakhstan will be deported
Plane held 35 tons of weapons, including RPGs, shoulder-launched rockets from N. Korea
Bangkok, Thailand (CNN) -- Thai officials will deport and not press charges against the five-member crew of a cargo plane intercepted in the Asian nation last year, carrying tons of weapons from North Korea.
The pilot from Belarus and four crew members from Kazakhstan will not be prosecuted in Thailand, because it isn't in the country's interests to do so, Kayasit Phitsawongprakarn with the Attorney General's office said Thursday.
"We have just acted according to Thai law. The weapons are now evidence. We are waiting for the owners to claim them," Kayasit said. "If after one year no one claims, it will belong to Thailand and the Defence Ministry will decide what to do with them."
The five crew members have been released from prison and temporarily placed in the custody of immigration authorities, said their lawyer, Somsak Saithong.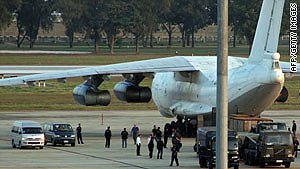 The cargo plane sits on the tarmac at the airport in Bangkok after being intercepted in December.

Video: Plane seized in Thailand
The men were arrested on December 12 when their Russian-built Ilyushin IL-76 cargo plane was on a refueling stop after flying from North Korea. Thai authorities found the plane loaded with 35 tons of weapons including small arms and rocket propelled grenades, in violation of strict U.N. sanctions against North Korea.
Kayasit said the plane's crew is not being prosecuted, because the U.N. resolution against North Korea only calls on countries to intercept arms, not punish those transporting them.
But Kayasit said he expected that the men will be prosecuted by their own governments.
The final destination for the weapons was still not clear. A leaked report by the Thai government to the U.N. Security Council said there was evidence the plane's final destination was Iran.
Thai officials have not confirmed the report.