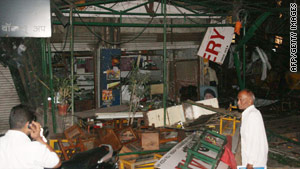 Onlookers stand near the wreckage of the blast-hit bakery in the city of Pune in western India.
STORY HIGHLIGHTS
Police say Saeed Abdul Ghani of Iran and Nadia Materinia of Italy among dead
At least nine people killed and 33 injured in explosion in Pune
Shop, known as the German Bakery, is frequented by tourists
New Delhi, India (CNN) -- An Italian and an Iranian were among nine dead from a terror attack at an eatery popular among expatriates in the western Indian city of Pune, authorities said Sunday.
Pune Police Commissioner Satyapal Singh identified the two as Saeed Abdul Ghani of Iran and Nadia Materinia of Italy.
Saturday's blast at the German Bakery wounded 60 people, including a dozen foreign nationals from several countries, including Yemen, Sudan, Taiwan and Germany.
Home Secretary G.K. Pillai told reporters Saturday that the explosives were packed in a bag noticed by a waiter at the eatery, located in northeast Pune's Koregaon Park. The explosion occurred at about 7:30 p.m. (9 a.m. ET) Saturday.

Video: Terror strikes popular bakery

Video: India restaurant bombed
Indian Home Minister P. Chidambaram described the incident, which occurred in the yard outside the building, where people were eating, as a terrorist act. "It is a first significant terrorist incident in 14 months," he told reporters, referring to the 2008 Mumbai assault.
In that brazen series of attacks, gunmen took over three luxury hotels and a Jewish center and shot up several other places, including a restaurant, over three days. In all, more than 160 people were killed and hundreds more wounded.
India blamed the attacks on the Pakistani militant group Lashkar-e-Taiba, which the United States regards as a terrorist organization.
Pillai, the top bureaucrat in the Home Ministry, told reporters in New Delhi that nearby Osho Ashram was one of the sites surveyed by Lashkar-e-Taiba suspect David Headley, a U.S. citizen facing terror charges in the United States.
Headley, a Chicago resident, faces six counts of conspiracy to bomb places in India, and to murder and maim people in India and Denmark; and of providing material support to foreign terrorist plots and providing material support to Lashkar-e-Taiba.
Headley faces an additional six counts of aiding and abetting the murder of U.S. citizens in the Mumbai attacks in which six Americans died.
Headley, who is in U.S. custody, has pleaded not guilty and is cooperating with authorities.
Chidambaram noted that the German Bakery -- a restaurant specializing in Western food -- is frequented by foreigners and Indians and is also near Chabad House -- a welcoming center run by Jews for people of all faiths -- and an ashram.
Chidambaram, however, cautioned reporters not to "draw any conclusions" about who may have been behind the blast.
Rabbi Betzalel Kupchik, whose Chabad house is about 100 meters from the blast site, expressed doubt that his organization had been targeted, but said his response would be to redouble his efforts to do good.
"Every time that happens something not good in the world, we have to make more goodness and kindness because you cannot fight the darkness, you have to make the light," he said in a telephone interview. "We have to make more goodness and kindness."
The Osho Ashram -- about 500 meters from the restaurant -- describes itself as a 28-acre "tropical oasis where nature and the 21st century blend seamlessly." The commune and meditation center was founded by the late Indian guru Bhagwan Shree Rajneesh, who returned to India from the United States in the 1980s.
"We don't know who they were looking for," said Chen Amiel, who was meditating inside the ashram when the blast occurred.
"I was meditating very deep," he said. "I heard something, but I couldn't identify it."
Afterward, he approached the site of the blast and surveyed the damage. Though windows were blown out, the structure appeared intact, he said. "All the yard was destroyed," he said.
Initially, authorities thought a cooking gas cylinder had exploded, but all cylinders were accounted for, according to sister network CNN-IBN.
An anti-terrorism squad is assisting in the investigation, Chandra Iyengar, home secretary for Maharashtra state, told CNN.
Saturday's blast comes a day after Indian and Pakistani officials agreed to meet in New Delhi later this month in a bid to resume their dialogue frozen by the 2008 Mumbai attacks.
The officials will meet in the Indian capital February 25, according to India's External Affairs Ministry.
India suspended its fragile peace process with arch-rival Pakistan in the wake of the 2008 Mumbai attacks.
The planned meeting follows a trip last month by U.S. Defense Secretary Robert Gates to South Asia. During his tour, he warned that a terrorist syndicate operated by al Qaeda aimed to spark a conflict between India and Pakistan.
He praised what he saw as India's restraint in the wake of the Mumbai strikes, but cautioned it may wear out in the event of another such attack.
CNN's Harmeet Singh and Tom Watkins contributed to this report.