Marines seize key police headquarters in Afghan offensive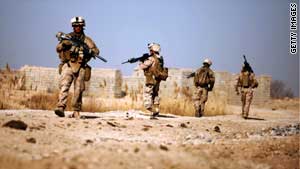 U.S. Marines patrol farmland northeast of Marjah in Afghanistan's Helmand province.
STORY HIGHLIGHTS
Operation Moshtarak focuses on area where heroin produced, Taliban has shadow government
Taliban finances uses illegal opium trade to finance activities
Gun battles broke out hours later after headquarters seized, CNN correspondent says
Taliban militants try to attack Marine locations with small arms and rocket-propelled grenades
Marjah, Afghanistan (CNN) -- U.S. Marines fighting the Taliban in southern Afghanistan achieved a main objective Tuesday -- taking over the police headquarters in the center of the Taliban stronghold of Marjah.
CNN correspondent Atia Abawi, embedded with the Marines, said troops didn't receive any resistance when they took the station, but gun battles broke out in the area a few hours later.
There was an engagement for 15 to 20 minutes, with constant gunfire coming from different directions, and there have been "sporadic battles," Abawi said.
Unlike previous days, there was fighting in the evening, with Taliban militants trying to attack Marine locations with small arms and rocket-propelled grenades. One of the grenades hit close to one of the U.S. positions and a fire broke out.
About 15,000 Afghan and NATO forces are taking part in Operation Moshtarak, which focuses on the town of Marjah and surrounding areas in Helmand province. Set in a region known as the country's heroin capital, Marjah is where the Taliban established a shadow government.

Video: Operation Moshtarak continues
The military says the goal of Operation Moshtarak is to provide security, governance and development, and authorities hope fighters choose to reject the insurgency and join the government's reintegration process.
Clearing out poppy fields is a key part of the push, the biggest since the Afghanistan War started in 2001. The Taliban finances its activities in part through the illegal opium trade.
One of the biggest challenges facing the NATO mission in Afghanistan is attacking the Taliban while limiting civilian casualties. On Sunday, 12 civilians died in a rocket attack by coalition troops. Three other Afghan civilians were killed by NATO in separate incidents on Sunday and Monday.
On Tuesday, Abawi spoke to one civilian whose property had been destroyed in the initial push by Marines. Despite that, he said he was happy to see Americans arrive and noted that Marines promised to pay for the damages to his home.
He said Afghans have suffered under the Taliban, who he said had beheaded some people and forced their way into people's homes for food.

Part of complete coverage on

Afghanistan Crossroads is where CNN's reporting converges, bringing you a diversity of voices, stunning images and video and global perspectives

Stunning images from on the ground in Afghanistan, from military maneuvers to every day life of Afghans

Explore the different historic events that have made Afghanistan a crossroads of history


Today's five most popular stories