North Korea refuses to abandon nukes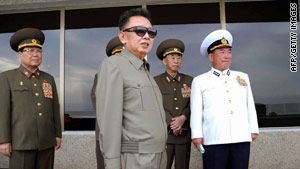 Kim Jong Il's North Korean leadership has vowed to continue pursuing its nuclear program.
STORY HIGHLIGHTS
North Korea says United States forced it to pursue nuclear program
U.S. believes North Korea has means to build a half dozen nuclear bombs
North Korea has abandoned international talks on its nuclear program
(CNN) -- North Korea vowed Friday not to dismantle its nuclear program -- not even in exchange for economic aid -- as long as the United States continues a "hostile policy."
"It was none other than the U.S. that pushed [North Korea] to acquiring nuclear deterrence and it is, therefore, wholly to blame for the nuclear issue on the Korean peninsula," the official Korean Central News Agency (KCNA) said.
North Korea will never abandon its nuclear program, "even if the earth is broken to pieces unless the hostile policy towards [North Korea] is rolled back and the nuclear threat to it removed," the agency said.
The United States believes that North Korea has enough weapons-grade plutonium to build a half dozen nuclear bombs.
The reclusive Communist nation last year cut off six-party talks involving the United States, China, South Korea, Japan and Russia, in anger over international criticism of its nuclear and missile tests.
U.S. Secretary of State Hillary Clinton previously said the United States was willing to meet bilaterally with North Korea but only within the framework of the six-party talks. She also has warned that the United States will not normalize ties with Pyongyang or lift sanctions unless North Korea takes irreversible steps toward dismantling its nuclear program.
North Korea has made it clear it is no rush to resume the stalled talks aimed at persuading the country to give up its nuclear weapons arsenal, according to Lynn Pascoe, the U.N. envoy to the country.
Speaking after a recent visit to Pyongyang, Pascoe said he and North Korean officials had "a frank and open discussion back and forth on a variety of issues." But, he said, "They are not eager to return to the six-party talks."
Pascoe said the North Koreans said they do not like the United Nations sanctions slapped on their nation.
Observers have said that the North Korea's dire economic conditions, including a severe food shortage, could bring it back to the bargaining table.
But North Korea said Friday that it feels no obligation to barter based on food, fuel or funding.
"Those who talk about an economic reward in return for the dismantlement of its nuclear weapons would be well advised to awake from their daydream," KCNA said.