5 Americans charged in terror case in Pakistan, prosecutor says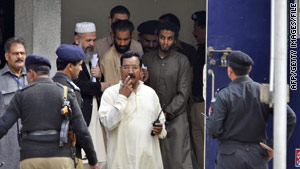 Five American terror suspects, surrounded by police and officials, leave court in Sargodha, Pakistan, on March 2.
STORY HIGHLIGHTS
Five Americans face charges including conspiracy to commit terrorism
The men, from Washington, D.C., area, were arrested in December in Pakistan
They have said they are innocent and were tortured in jail
Pakistani authorities have described them as students who wanted to wage holy war
Islamabad, Pakistan (CNN) -- Five Americans accused of plotting terror attacks in Pakistan were formally charged Wednesday with several terrorism-related counts, the prosecutor in the case told CNN.
Nadeem Akram Cheema, prosecutor for the Anti-Terrorism Court in Sargodha, Pakistan, said the men were charged with criminal conspiracy to commit terrorism, waging war against Pakistan and its allies, and several other charges.
Their next pretrial hearing is set for March 31, Cheema said.
The men, who have been called the "D.C. 5" because they all lived in the region around the U.S. capital, were arrested in December in Sargodha, about 120 miles south of Islamabad.
Pakistani authorities have described them as college students who "were of the opinion that a jihad [holy war] must be waged against the infidels for the atrocities committed by them against Muslims around the world."
The five, who worshipped together at a mosque in Alexandria, Virginia, are identified as Ahmed Abdullah Minni, Umar Farooq, Aman Hassan Yemer, Waqar Hussain Khan and Ramy Zamzam.
They all went missing around the same time and later surfaced in Pakistan.
The men have said they are innocent and claimed they were tortured in jail. They could face up to life in prison if convicted, authorities have said.
Journalist Nasir Habib contributed to this report.