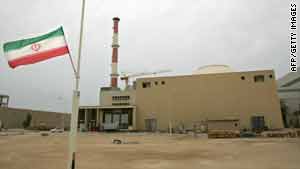 In 2007, this building housed the reactor of the Bushehr nuclear power plant in southern Iran.
STORY HIGHLIGHTS
Susan Rice is the U.S. ambassador to the United Nations
She says new Chinese commitment represents progress
China has previously been unwilling to consider stronger sanctions against Iran
Iran's nuclear engery program has caused concern for U.S. and other nations
(CNN) -- China has agreed to negotiate possible sanctions against Iran over Tehran's failure to comply with international regulations involving its nuclear energy program, the U.S. permanent representative to the United Nations said Wednesday.
Ambassador Susan Rice told CNN that the Chinese commitment represented progress because China previously has been unwilling to agree to stronger sanctions against Iran sought by the United States and other allies.
"China has agreed to sit down and begin serious negotiations in New York" with other permanent members of the U.N. Security Council, Rice said.
The United States and its allies believe Iran is trying to develop nuclear weapons, while the Iranian government says it only wants a peaceful nuclear energy capability. Rice said there was little doubt that Iran wanted a nuclear weapons capability.
"All of the evidence indicates the program is not as they state, for peaceful purposes only, that there is a military element to it," Rice said.
The news of China's willingness to negotiate came a day after President Obama and French President Nicolas Sarkozy made a joint call for tougher U.N. sanctions on Iran.

Video: Crackdown on Iran

Video: Students okay with nuclear Iran
Obama conceded Tuesday that the push for stronger sanctions lacked backing from some nations, but he said the effort to convince the U.N. Security Council to impose additional measures would continue. In addition, Obama said he wanted U.N. approval of new sanctions within weeks.
Obama called the pro-sanctions position much stronger now compared to a year ago, after working with France and other allies to engage Iran and offer it an opportunity to work out an acceptable nuclear energy plan.
France is one of the so-called P-5+1 nations, along with the United States, Germany, Russia, China and Great Britain, that have negotiated with Iran over the nuclear issue.
The group, which comprises the five permanent members of the U.N. Security Council plus Germany, is divided over whether to strengthen sanctions against Iran, with China and Russia considered the main holdouts.
Obama recently announced an agreement with Russia on a new treaty to reduce the nuclear arsenals of both countries, and U.S. officials say they hope the trust from the agreement signals greater openness by Russia to tougher sanctions against Iran.
Meanwhile, Iran's English language government-run television network, Press TV, reported Wednesday that Iran's top nuclear negotiator, Saeed Jalili, will head to China on Thursday to discuss a range of issues with Beijing officials, including Tehran's nuclear program.
According to Press TV, Jalili was invited by Chinese State Councilor Dai Bingguo.
Chinese Foreign Ministry spokesman Qin Gang told reporters Tuesday that China opposes Iran possessing nuclear weapons.
"Meanwhile, we also believe Iran, as a sovereign state, is entitled to peaceful use of nuclear energy," Qin said. "China's position on that is persistent and unequivocal."
Asked to elaborate, Qin said: "We uphold the seriousness and authority of the international nuclear nonproliferation regime as well as regional peace, security and stability. We will make joint efforts with other parties to peacefully resolve this issue by diplomatic means."

CNN's Amir Ahmed contributed to this story