Court opens in British teen's murder in India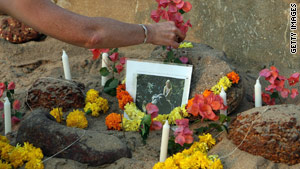 A memorial for British teenager Scarlett Keeling on the beach where her body was found.
STORY HIGHLIGHTS
Scarlett Keeling's body found in February 2008

Two Indian men charged in connection with her death

Keeling's mother pushed for inquiry after police say Scarlett drowned

Police later determine girl was drugged, assaulted before dying

New Delhi India (CNN) -- Court proceedings opened Monday in the case of the murder and sexual assault of a British teenage girl in India's seaside resort of Goa, attorneys said.
Police have charged two Indian men -- Placido Carvalho and Samson D'Souza -- in connection with the February 2008 killing of 15-year-old Scarlett Keeling in a case that has dealt a blow to Goa's vacation paradise image.
The suspects, out on bail, have been charged with culpable homicide (which does not amount to murder) and grievous sexual assault. Both deny any wrongdoing, Rivankar said.
Police officer, Gurunath Naik, testified Monday as the first witness, said public prosecutor S.R. Rivankar.
Nath said he saw Keeling's bruised, partly-clothed body on a beach near the shore when he arrived at the scene, Rivankar said.
Indian police initially said Keeling had drowned.
But her mother, Fiona MacKeown, rejected that theory and launched a campaign for a second autopsy that led investigators to determine she was drugged and sexually assaulted before her death.
Federal police say one of the suspects drugged the young girl with cocaine, alcohol and ecstasy pills, and then sexually assaulted her. She was left on the seashore in the early hours of February 18, 2008 to die, police said.
The trial should last about six months and more than 70 witnesses were expected to testify, Rivankar said.
India has stringent laws in place to protect women. Yet, data shows a surge in crimes against them. Police across India registered 195,856 crimes against women in 2008, up from 140,601 in 2003, according to the National Crime Records Bureau (NCRB).
More than 21,000 rapes were reported in 2008, NCRB figures show.
Goa's police insist the tropical tourist hotspot is safe for visitors.
In January, a 22-year-old man was arrested for the alleged rape of a nine-year-old Russian girl in Goa. The suspect worked for a pharmaceutical firm in Goa.
His arrest came after the Russian embassy in New Delhi expressed outrage over the assault.