What's behind the grin of Yue Minjun?
STORY HIGHLIGHTS
Artist Yue Minjun is the man behind the grinning face paintings in Chinese art
His work is deeply affected by the rapid changes in China and events in 1989
His work set a world record price for contemporary Chinese art in 2007
(CNN) -- Artist Yue Minjun is the man the behind the rictus grin that has become his work's motif. Part self portrait, part parody, part social commentary, his paintings have made him one the most instantly recognized contemporary artists in China.
Born in 1962, Minjun graduated from the Hebei Normal University in 1989, the year that authorities cracked down on student protests in China, most notably in Tiananmen Square. Minjun admits that those events and the subsequent changes in Chinese society have had a major effect on his life and work.
"Politics is part of my daily life. It is there every day," he told CNN. "The paintings reflect it and I can't escape it...it affects me greatly."
"I also ask why after China experienced so many changes and so much progress we're still so immature politically. Why is it that we cannot resolve some of our daily problems politically? It seems like we're still struggling. ... I have a feeling that our nation is the most politically immature nation."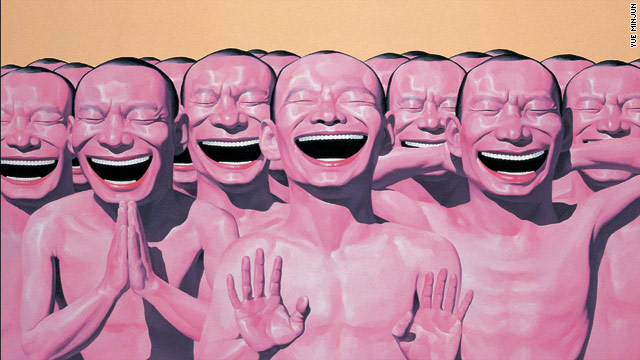 Gallery: Behind the smile: The art of Yue Minjun
Art critics have often labeled his early work "critical realism," a term that encompassed a number of Chinese artists in the early 1990s that used satire to juxtapose capitalism and consumerism with Chinese communism.
Minjun says that the laughing character of his work was developed in response to the changes that China experienced since 1989.
"It has a lot to do with the changes brought about by China's reform. The changes cause the changes in people's behavior, very fast changes too. People's emotions are different too, full and stimulating. The laughing faces represent the emotional feelings of the people."
My work has a lot to do with the changes brought about by China's reform.
--Yue Minjun, artist
Many of his pieces painted in the early 1990s have become highly sought after. "The Execution" became the most expensive painting by a contemporary Chinese artist when it was sold in 2007 for $5.9 million. While that record is now held by another artist, his earlier works still attract high prices from collectors."On the Lake" was sold for $1.8 million in Hong Kong on April 5, 2010.
Subsequently he's become a forger's favorite.
"I don't know who is copying me so there's no reason to be mad at anybody. There are too many of them. Maybe they like my work. It's OK. From the intellectual property point of view, they should not sign my name and sell them. It's not good for customers. It'd be fine if they sign their own names," he said.
While that famous smile may remain in some of his work in the future, Minjun believes that China could do with slowing the pace of social change.
"Just slow down a bit maybe, so as to let people catch up with the same pace and so to live in a rather stable way. Going too fast would just make people lose balance, and somehow feel being abandoned or isolated, which is not good to the society as a whole," he said.