Pakistani assembly OKs measure to curb presidential powers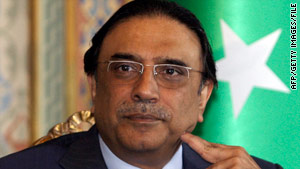 President Asif Ali Zardari may enjoy a boost in popularity among Pakistan's political elite for backing the measure.
STORY HIGHLIGHTS
Amendment would strip President Asif Ali Zardari of ability to dissolve parliament

Columnist: "This is a great advertisement for democracy in Pakistan"

Measure must go to parliament's upper house and be signed by Zardari, who supports it

Amendment removes much authority from the federal level and gives it back to provinces

Islamabad, Pakistan (CNN) -- In what political pundits are hailing as a historic moment for the troubled nation, Pakistan is one step closer to restoring the balance of power envisioned by its founders.
Pakistan's National Assembly voted unanimously Thursday to pass the 18th Amendment, a sweeping measure that includes stripping President Asif Ali Zardari of his ability to dissolve parliament. Zardari favors the measure.
The presidential ability to dissolve parliament was first inserted into the Pakistani Constitution by the Eighth Amendment, enacted under Gen. Muhammad Zia-ul-Haq. It was eventually removed, but then was re-enacted by another military ruler, Gen. Pervez Musharraf, in what is known as the 17th Amendment.
"This is a great advertisement for democracy in Pakistan," said Cyril Almeida, a columnist for Dawn, an English daily newspaper in Pakistan.
"There's always been [the impression] that this country has lacked a foundational document," Almeida said after the vote. "All the other federations have had a core document. In Pakistan, we've had this yo-yo effect. We've gone from a total presidential form of government to a parliamentary form of government."
The 18th Amendment also changes the course of big government in Pakistan, removing much authority from the federal level and giving it back to the provinces.
But Almeida added that while it may appear that Zardari has weakened his hand, he still holds the cards because he remains at the helm of the country's ruling party, the Pakistan People's Party.
"It's really unlikely that there will be a serious power shift in the presidency toward the prime minister's office," he said.
Nonetheless, Almeida said, while Zardari may enjoy a boost in popularity among the country's political elite for supporting the measure, his numbers aren't likely to change among the working class, who make the difference at the ballot box.
"At the end of the day, these structural procedural issues aren't vote-getters," Almeida said. "People care about jobs, [about] not having electricity, not having water. Is violence down? Is street crime down? Those are the vote-getters. The urban class aren't really arbiters of who gets elected."
The amendment still needs to pass through the upper house of parliament and must go to Zardari to be signed before becoming law.
But analysts said this first hurdle was the one that mattered because the opposition doesn't have the numbers in the Senate to defeat the measure.