Taliban militants threaten to kill kidnapped French journalists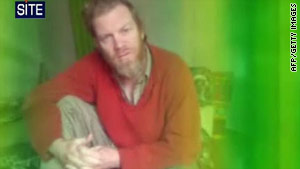 Herve Ghesquiere, along with a fellow journalist and their driver, was kidnapped in December.
STORY HIGHLIGHTS
Abductors demand release of some detainees held by France
Pair, plus translator and driver, threatened with death if video isn't aired on French TV
Herve Ghesquiere, Stephane Taponnier have been held for more than 100 days
Detainees described as "miserable" and "living a life under torture and brutalities"
(CNN) -- Taliban militants in Afghanistan are threatening to kill two kidnapped French journalists unless their demands are met, including the release of some detainees held by France.
In a video posted online, the journalists, who were kidnapped in December, are shown in separate clips.
Speaking in English and French, one reads a lengthy statement saying that if "this interview" is not aired on French TV, the journalists will be killed, along with their translator and driver. No other voices are heard in the video, only those of the two journalists.
"The French president, Mr. Nicolas Sarkozy, must understand that we are now in danger of death. I repeat: the French president much negotiate very quickly. Otherwise, we will be executed soon," he says.
France 3 Television -- which had not previously identified its two missing journalists -- identified them Monday as Herve Ghesquiere and Stephane Taponnier.
Wearing glasses and a red sweater over a button-down shirt, Ghesquiere reads in English. Taponnier, wearing what appears to be a gray sweater over a button-down shirt, then reads in French. Ghesquiere then returns, speaking French.
The two bearded men are seated, reading calmly from what appear to be prepared notes on a pad of paper.
Last Thursday marked their 100th day of their captivity.
France 3 Television showed images from the video as part of a report, blurring the men's faces.
In a written statement, the Taliban said they have submitted a list of their "most ordinary detainees to the government of France for release as an exchange for the two Frenchmen and their Algerian colleague." It added, "There is no other option for the release of the said detainees except the option of detainees exchange."
The statement described the detainees as "miserable" and "living a life under torture and brutalities."
The French government had no immediate comment.