STORY HIGHLIGHTS
Clashes between anti-government protesters, security forces leave 21 dead
Clashes also leave more than 850 people wounded, rescue center says
Protesters organize funeral ritual Sunday for their members; thousands attend
"Red shirt" protesters demand new elections, say PM was not democratically elected
Bangkok, Thailand (CNN) -- Bangkok's local government canceled major Thai holiday festivities that were to begin Monday, with officials citing the deadly anti-government protests as the reason.
Festivities related to the three-day Thai New Year's holiday Songkran were dropped, the Bangkok Metropolitan Administration announced.
Clashes between anti-government protesters, known as "Red Shirts" for their clothing, and Thai security forces intensified during the weekend, leaving 21 people dead.
Of the dead, 17 are civilians and four were military, according to the Erawan Rescue Emergency Center.
The clashes also left more than 850 people injured, the rescue center said.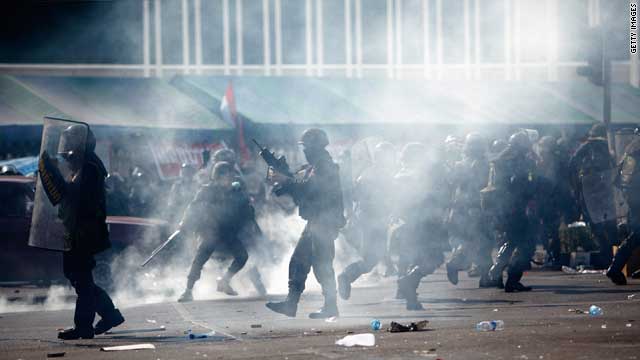 Gallery: Bangkok protests

Video: Tense new year begins in Thailand
iReport: Were you there? Send your images, video
Violence erupted Saturday when military and police forces used tear gas and rubber bullets to contain protesters who were trying to break into military barracks.
Among those killed was Hiro Muramoto, a Japanese cameraman with Thomson Reuters, state media said.
Military and police forces used tear gas and rubber bullets to contain the protesters, who were trying to break into military barracks, state media reported. Video showed the protesters throwing objects at the security forces, who protected themselves with shields.
iReport: Watch an eyewitness video of protests
The Red Shirts, who represent the United Front for Democracy Against Dictatorship, have been demanding for days that Prime Minister Abhisit Vejjajiva dissolve the parliamentary body and call new elections. In addition, Red Shirts leader Weng Tojirakarn said the group wants the prime minister to leave the country.
The group said it is unwilling to sit down for negotiations with the government unless it is to discuss the dissolution of the lower house of parliament.
The group is comprised of supporters of former Prime Minister Thaksin Shinawatra, who was ousted in a bloodless military coup in 2006.
He fled the country in 2008 while facing trial on corruption charges that he says were politically motivated. The main case against him relates to the transfer of shares in his communications company Shin Corporation. Prosecutors allege he illegally transferred the shares to his family, who then sold them to the Singapore government's Temasek without paying tax.
Prosecutors also argued that Thaksin's government implemented policies that benefited his businesses, including a low interest loan from the Thai government to the Myanmar government to buy equipment from Shin Corp, a change in tax laws that benefited Shin Corp and changes to satellite laws that helped Shin Corp.
But Thaksin's defense team insisted neither he nor his wife owned the Shin Corp shares while he was prime minister. They claim they were sold to their son before Thaksin took office.
Despite this Thaksin remains a hugely popular figure, as many believe he was the only leader to offer the rural poor a voice and real benefits.
CNN's Kocha Olarn contributed to this report.
FOLLOW THIS TOPIC