STORY HIGHLIGHTS
NEW: Death toll now over 1,700, officials say, as rescue efforts continue
Premier Wen Jiabao travels to quake-devastated zone to inspect damage
Rescue effort hampered by unstable bridges and collapsed roadways
Quake shook Qinghai province around 8 a.m. Wednesday
Jiegu, China (CNN) -- The death toll from last week's 6.9-magnitude earthquake in northwest China has risen to 1,706, state media said Sunday.
An additional 12,128 were injured, in the quake Wednesday in Qinghai province.
Of the injured, 1,424 are in serious condition, the Xinhua news agency said.
Since the quake struck the country's Tibetan region, rescuers have been working around the clock to pull survivors from the rubble.

Video: Rescue from the rubble

Video: Search for survivors in China earthquake

Video: Earthquake devastates China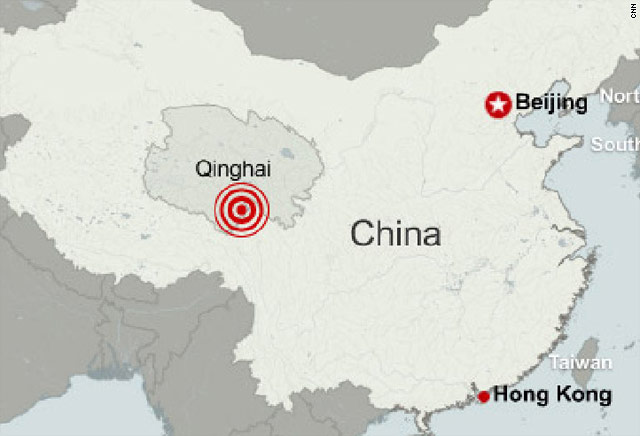 Map: Earthquake in China
The earthquake toppled about 15,000 homes in and around the impoverished county of Yushu, and caused more than 100,000 people to flee the area.
Earlier, Premier Wen Jiabao traveled to the earthquake-devastated zone to inspect the damage and assure victims that the search would continue.
"Your suffering is our suffering," Wen said. "We are going through the same pain as you are. The family members you lost are also our family members, and we grieve for them as you do."
Wen surveyed the rubble of buildings and spoke with residents in the predominantly ethnic Tibetan region -- where anti-government sentiment is simmering -- to drive home Beijing's concern.
Are you there? Send your photos, video, stories
Ethnic Tibetans have accused Chinese soldiers of not doing enough to help in the immediate aftermath of Wednesday's 6.9-magnitude earthquake. That's an allegation the Chinese government denies, but Wen's visit could help boost morale -- at least among rescuers, some of whom are battling high altitude sickness.
"As long as there is a slight hope, we will never give up," he said. "We need to unite as one, to do a good job in our rescue work. At the same time, I assure everyone, that we will definitely make life good here again."
Wen and Chinese President Hu Jintao postponed planned foreign trips because of the disaster.
The premier postponed a scheduled visit to Brunei, Indonesia and Myanmar. Hu called the presidents of Chile and Venezuela to postpone his mid-April visits to those countries.
How to help: Impact Your World
"During this difficult time, I need to be home as soon as possible together with our people providing relief," he said.
In Jiegu, the town closest to the epicenter, people were taken to a sporting field serving as a makeshift hospital -- there are no hospitals in the town.
More than 85 percent of Jiegu's poorly constructed mud and brick houses collapsed. They were homes for ethnic Tibetans, among China's poorest people making a living as farmers and herdsmen.
Along the town's main street, all that was left of two hotels was a pile of rubble. Residents and monks used hand shovels and ropes to clear debris in hopes of reaching survivors.
Thursday's rescue effort was hampered by unstable bridges and collapsed roadways, making it difficult for heavy equipment to get to hard-hit areas, including Jiegu.
But after five hours of digging, rescuers were able to pull four survivors from a guest house in the area Thursday afternoon, state television reported.
Authorities have said more than 1,000 people were saved in similar rescues.
Population: 5 million
People: 44 ethnic groups, including Tibetans and Mongols
Average elevation: Over 3,000 meters above sea level
Geography: Qilian Mountains, the Qingnan Plateau and the source of the Yangtze, Mekong and Yellow Rivers
GDP: US$3.2 billion; average GDP per capita US$639
Industries: Agriculture, hydropower, oil and natural gas

Source: China Internet Information Center
Officials have sent 20,000 cotton tents, 50,000 items of winter clothing and 50,000 quilts to victims.
Can buildings be made earthquake-proof?
The quake shook the region shortly before 8 a.m. Wednesday (Tuesday 8 p.m. ET), when many residents were still at home and schools were just getting started for the day.
Qinghai province in northwestern China, home to about 5 million people, is considered a gateway to Himalayan Tibet. About half its people are Han Chinese, but the area is home to more than 40 ethnic groupings, including Tibetans, Hui and Mongols.
The region, rich in natural gas and marked by copper, tin and coal mines, has a long history of earthquakes. Since 2001, 53 quakes with a magnitude of 5.0 or greater have occurred, according to China's Earthquake Administration.
World's biggest earthquakes since 1900
The Chinese government has allocated 200 million yuan (US$29 million) to aid the relief effort, China's Ministry of Civil Affairs said.
U.S. Ambassador to China Jon Huntsman Jr. presented two checks worth a total of $100,000 to the Red Cross Society of China and the Qinghai Provincial Red Cross.
CNN's John Vause, Licia Yee and Jo Ling Kent contributed to this report.