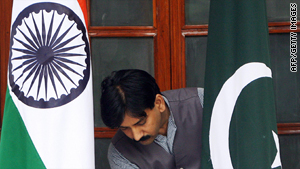 A worker adjusts the Pakistan and India flags prior to a meeting between the neighbors in 2008.
STORY HIGHLIGHTS
Foreign ministers to meet in Islamabad on July 15
Peace talks have been stalled since 2008 Mumbai attacks
Leaders met last month on sidelines of South Asian summit in Bhutan
Neighbors have fought three wars since independence from UK in 1947
Islamabad, Pakistan (CNN) -- Indian and Pakistani foreign ministers Tuesday announced plans to meet in July as part of efforts by their countries to restart their peace process frozen by the 2008 attacks in Mumbai.
India's External Affairs Minister S.M. Krishna said he planned to visit Islamabad on July 15 to hold talks with his Pakistani Foreign Minister Shah Mahmood Qureshi.
"I am looking forward to these talks. Let us hope that these talks will be helpful in bringing our two countries closer together, bringing our two countries the cordiality that all of us desire. And let us hope that our effort will be fruitful," Krishna said in a statement after a telephone conversation with Qureshi.
The announcement follows a late April meeting between Indian and Pakistani prime ministers on the sidelines of a two-day summit of South Asian leaders in Bhutan.
"This was a follow-up of the meeting of our two prime ministers in Thimphu where it was decided that the foreign ministers and the foreign secretaries will work out the methodology as to how the dialogue between the two countries can be carried on so that all outstanding issues between our two countries could be discussed in an atmosphere of mutual trust and mutual respect," Krishna said.
Diplomatic experts say Tuesday's move fuelled hope that the estranged neighbors would gradually revive their substantive dialogue.
"I think that there's no doubt that the talks between India and Pakistan will eventually resume," remarked Rashid Ahmad Khan, a professor of international relations at Pakistan's Sargodha University.
In 2004, the two nuclear-armed South Asian rivals agreed to a peace initiative called the "composite dialogue" that covered eight issues including Kashmir, terrorism and Pakistan's concerns over river dams on the Indian side, which it sees as a threat to its water supplies.
Successive governments on both sides of the border carried forward the talks, which they acknowledged as a means to ending their historical acrimony that involved three wars, two of them over Kashmir.
Indian Prime Minister Manmohan Singh and Pakistan President Asif Ali Zardari praised results from the negotiations in September 2008 as the countries completed four rounds of diplomatic meetings.
But the events in Mumbai two months later led India to break off its formal talks with Pakistan.
India, analysts say, may now insist on remodeling the peace process as both countries try to mend their ties.
"India may seek greater focus on terrorism in the composite dialogue. And I don't think there will be an outright rejection of Indian demands by Pakistan," Khan remarked.
He said there was a possibility Pakistani diplomats would work out a solution to address Indian concerns.
Observers see the recent thaw in India-Pakistan relations as a sign they recognized deadly insurgency in the region as a common foe.
"It shows a greater realization that the people they have to fight are the Taliban and the fundamentalists," said Afsir Karim, a strategic expert in India.
Karim, however, underlined that the Himalayan region of Kashmir, anti-India terrorism and what he called any mistrust could still pose a threat to their fragile peace efforts.
Nonetheless, he hailed the new re-engagements between India and Pakistan as a "positive development."