STORY HIGHLIGHTS
NEW: Thai prime minister says order restored in Bangkok and rest of Thailand
Government creates rapid-response team to patrol capital
Officials says government will move quickly to prosecute protesters
At least 50 people have been killed in clashes in the past few weeks
Bangkok, Thailand (CNN) -- Order has been restored in Bangkok and the rest of Thailand after days of violent clashes that crippled the capital, the country's prime minister said Friday.
In a televised address, Prime Minister Abhisit Vejjajiva said Thailand plans to swiftly return to normalcy, but acknowledged that obstacles remain.
"We recognize that, as we move ahead, there are huge challenges ahead of us, particularly the challenge of overcoming the divisions that have occurred in this country," he said.
Abhisit said the government's reconciliation plan would include "an independent investigation of all the events that have taken place during the protests."
He did not specify who would conduct the investigation or when it would begin.
Timeline of Thailand's political crisis
Earlier Friday officials created two programs aimed at helping residents and businesses return to normal life, a government spokesman said.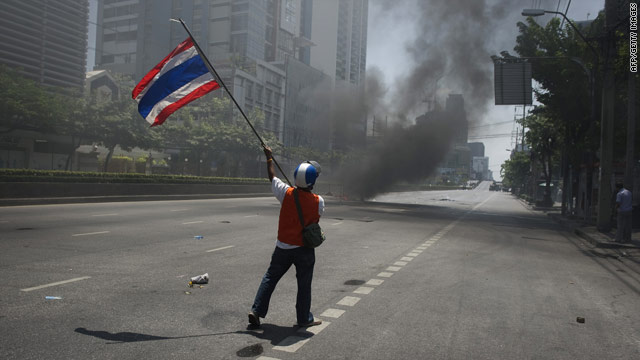 Gallery: Thailand unrest

Video: Tensions ease in Bangkok

Video: Curfew extention in Thailand

Video: Bangkok scenes from iReporters

Video: Downtown Bangkok a war zone
A rapid-response team of police and civilian city officials will start patrolling Bangkok to ensure stability, prevent disruptions and help people resume their daily lives, spokesman Panitan Wattanayagorn said.
Officials also opened a new business relief center to help companies seeking assistance, he said.
"We'll be looking for measures in the next few days to make sure that in this transitional period, Thai society is in the process of healing," Panitan said.
Bangkok residents and businesses have started cleaning up the damage the violent standoff left behind even as the city still smolders.
"There are still some protesters who are very bitter about what's going on. Even last night, they tried to go out and create some more problems," Dusit International Hotel Group CEO Chanin Donavanik told CNN.
But Chanin said he was optimistic that visitors would return when his hotel reopens late next week.
"We have seen that in the past, that every time we have problems in Thailand, whether it's the tsunami or the bird flu, people will come back," he said.
A dusk-to-dawn curfew for 24 provinces is scheduled to remain in place through Sunday.
Panitan said the government would quickly move to prosecute the Red Shirt protesters arrested during the riots.
On Wednesday, government troops surged into Lumpini Park, the area where Red Shirt demonstrators had amassed.
After hours of intense street battles, five anti-government protest leaders were taken into custody. At least three more turned themselves in Thursday. Red Shirt leaders called off the protest, but some did not heed the call as smaller riots erupted in the city.
More than 30 buildings -- including a bank, a police station, a local television station and Thailand's biggest shopping mall -- were set ablaze.
At least 50 people have been killed in clashes in the last several weeks and nearly 400 people injured, government officials said.
That death toll could rise as people begin to sift through areas of Bangkok that were badly damaged.
The Red Shirt opposition members support former Prime Minister Thaksin Shinawatra, who was ousted in a bloodless military coup in 2006.
They had been protesting for weeks, demanding that the current prime minister dissolve parliament and call new elections.