Anti-whaling activist to go on trial in Japan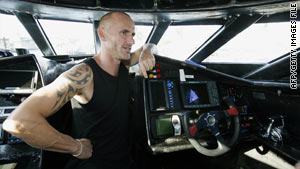 Peter Bethune, captain of the Ady Gil, faces five criminal counts, including trespassing.
STORY HIGHLIGHTS
Trial of anti-whaling activist to begin in Japanese court
The charges against Peter Bethune include trespassing
Bethune was taken into custody in February aboard the Shonan Maru 2
Tokyo, Japan (CNN) -- The trial of an activist accused of interfering with Japan's whaling fleet is scheduled to begin in a Japanese court Thursday.
Peter Bethune, 44, faces five criminal counts, including trespassing, in an incident earlier this year in the waters off the Antarctic where Japan conducts its annual whaling expedition.
If convicted, he could spend years in prison and pay thousands of dollars in fines.
He is accused of jumping aboard the Shonan Maru 2, the security ship of a Japanese whaling fleet, after the Ady Gil, of which Bethune was captain, sank.
Bethune belongs to the activist group Sea Shepherd Conservation Society. The group said the New Zealander was attempting to make a citizen's arrest of the Shonan Maru 2 skipper for the January collision that sank the Ady Gil, a futuristic vessel used to intercept and block harpoon ships.
Bethune was taken into custody in February aboard the Shonan Maru 2 and was formally arrested when the ship returned to Japan in March.
The Tokyo District Public Prosecutors Office indicted Bethune in April on five criminal counts: illegal entrance to a vessel or trespassing; damage to property; assault (for throwing butyric acid onto the Shonan Maru 2); forcible obstruction of business (interrupting the whaling expedition); and violation of arms control law (Bethune was in possession of a long survival knife, which is illegal in Japan).
The Bethune case highlights an ongoing feud between Japanese whaling fleets and conservation agencies, especially the hardline Sea Shepherd.
Activists have used their own boats to interfere with whaling ships, thrown butyric acid -- found in rancid butter and vomit -- and fired paint guns. The Japanese, in turn, have repelled protesters with water cannons.
Whaling is allowed under international law when done for scientific reasons, which Japan cites as the legal basis for its hunts.
The country's annual hunt kills up to 1,000 whales a year.
Many in the international community believe that such hunts amount to needless slaughter.
Critics say that Japan's research is actually a pretext for retrieving whale meat to be sold in markets and restaurants.