10 troops killed in Afghanistan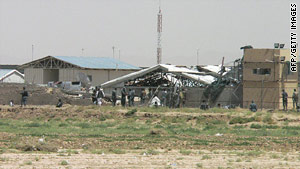 Police inspect a training center in Kandahar that was attacked Monday, leaving two people dead.
STORY HIGHLIGHTS
NEW: 2 of NATO casualties are Australian
7 Americans among 10 NATO casualties Monday in Afghanistan, ISAF says
Attack on a police training site, improvised explosive devices take toll
Three suicide attackers were killed
Kabul, Afghanistan (CNN) -- Attacks across Afghanistan on Monday killed 10 allied troops, including seven Americans, in the deadliest day for coalition forces this year, officials said.
Two of the dead were Australians killed by a blast during patrol in the Mirabad Valley of southern Afghanistan acting Australian Defense Minister Greg Combet said. They were the first Australian service personnel killed in Afghanistan in nearly a year.
The exact locations of the remaining fatalities were not immediately released, though NATO's International Security Assistance Force confirmed that seven of them were Americans. The nationality of one of the troops also was not known.
In addition, the U.S. Embassy in Kabul said an American citizen and another person died in an attack on a police training center in Kandahar.
"Our sympathies go out to those who lost loved ones in this callous attack. The United States will continue to stand with our Afghan partners to fight terrorism and help the Afghan government provide security, safety and prosperity to its people," the embassy said in a statement.
The Afghan Interior Ministry said the three suicide attackers who assaulted the center were killed. One driving a Toyota Corolla struck the police training center tower and two suicide attackers who attempted to enter the center detonated themselves at the facility's gate.
In eastern Afghanistan, an improvised explosive device killed five NATO troops, according to ISAF.
In a separate operation, a service member was killed by small arms fire in eastern Afghanistan, and another was killed by a roadside bomb in southern Afghanistan.
FOLLOW THIS TOPIC