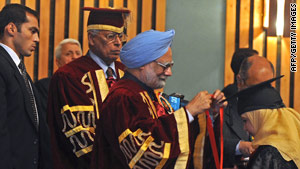 Indian PM Manmohan Singh gives a medal to a student during a function in Srinagar on June 7, 2010.
STORY HIGHLIGHTS
Manmohan Singh begins two-day visit to Indian-administered Kashmir
Pedestrian, vehicular movement restricted in capital of Srinagar
Visit comes amid public anger over youths' deaths
Efforts fail to restart talks with Kashmiri separatists
Srinagar, India (CNN) -- Indian Prime Minister Manmohan Singh arrived on a two-day visit to Indian-administered Kashmir on Monday amid a complete shutdown and curfew-like restrictions in parts of the capital city.
A strike to protest the visit, called by Kashmiri hard-line separatist leader Syed Ali Shah Geelani, closed shops, businesses, educational institutions, government offices and banks.
The streets were deserted, with no public transport operating and only thin private traffic.
Srinagar's old city was placed under tight restrictions, with Indian police officers and paramilitary troopers strictly enforcing the rules, witnesses said.
Intersections in the area had been barricaded with coils of razor wire, allowing no pedestrian or vehicular movement.
Authorities took the security measure of jamming mobile phones as the special aircraft carrying the prime minister touched down at a heavily guarded military airport here.
The jamming will continue until his departure Tuesday, according to a police spokesman.
Singh visited primarily to deliver a convocation address for the University of Agriculture, Science and Technology. He spoke at the international conference center on the banks of Kashmir's main tourist attraction, Dal Lake, which was heavily fortified.
All roads leading to the venue had been declared off-limits for general pedestrian and vehicular traffic.
Indian paramilitary soldiers with automatic weapons patrolled the waterfront of the conference center in motorized boats, inconveniencing thousands of tourists staying in houseboats and hotels around lake.
Boat rides, a favorite activity of foreign and Indian tourists, have been banned for two days, according to police officer Muzaffar Ahmad.
The prime minister's visit comes amid strong public anger because of the recent killings of three youths along the Line of Control adjoining Pakistani-administered Kashmir, purportedly by Indian soldiers who said the men were rebels.
The government has ordered an inquiry, and the army suspended two of its officers, but the moves have done little to ease tensions.
Three civilians working for the army and a trooper with the Territorial Army have been arrested, according to a senior officer.
Although the prime minister's convocation speech was for university alumni, he took the opportunity to address the sensitive human rights issue, saying that "the security forces have been strictly instructed to respect the rights of the civilians."
"We will act to remove any deficiency in the implementation of these instructions," Singh said.
Efforts to restart the stalled dialogue between New Delhi and the Kashmiri separatist leadership did not come to fruition, as emissaries of the Indian government, who had been working toward that end here in past week, failed to persuade the separatists to return to the table.
Mirwaiz Moulvi Umar Farooq, chairman of the moderate All Parties Hurriyat Conference, has stated that "talks and killings cannot go hand-in-hand."
But Singh reached out to the Kashmiri separatist leadership in his address: "We wish to carry forward the process of dialogue, and we are ready to hold talks with the representative of any group which shuns violence and terror."
Singh also took the opportunity to urge neighboring Pakistan "to help in creating an environment in which people from both the sides can live in peace and harmony and work together."
He said the Pakistani prime minister, Yusuf Raza Gilani, has assured him that "Pakistan will not allow its soil to be used for terrorist activities against India. Meaningful talks between the two countries, which can lead to a resolution of old issues, are possible only when Pakistan doesn't let its territory be used for acts of terror against India."
FOLLOW THIS TOPIC