Anti-Taliban ops will take longer than expected, top general says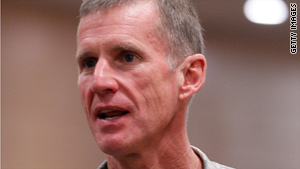 American casualties in Afghanistan are likely to increase, Gen. Stanley McChrystal said Thursday.
STORY HIGHLIGHTS
"It will take a number of months," Gen. Stanley McChrystal says
More important to get it right than get it fast, U.S. commander in Afghanistan argues
American casualties likely to rise, he says
At least 18 Americans, 8 allied service members killed in past week
For the latest news on Afghanistan, check out CNN's Afghanistan Crossroads blog.
(CNN) -- American-led operations against the Taliban in southern Afghanistan will happen "more slowly than we had originally anticipated," the top U.S. military commander in Afghanistan said Thursday.
"I think it will take a number of months for this to play out. But I don't think that's necessarily a bad thing. I think it's more important that we get it right than we get it fast," Gen. Stanley McChrystal said on the sidelines of a NATO meeting in Brussels, Belgium.
McChrystal, a counterinsurgency expert, was talking about the broad range of American operations against the Islamist movement that used to rule Afghanistan, not only armed combat.
"I want to make sure we've got conditions shaped politically with the local leaders, with the people," he said.
"We really want the people to understand and literally pull the operation towards them, as opposed to feeling they are being forced with something they didn't want," he said.
Meanwhile, American casualties in Afghanistan are likely to continue to increase, particularly through the summer, he said.
"It's likely that our casualties and violence will continue to rise particularly through the summer months. They could rise well into the fall," he said.
"We are pressuring the enemy, and they are reacting to that," he said.
At least 18 American service members have been killed in Afghanistan in the past week, along with eight coalition service members from the United Kingdom, Australia, Canada and France, according to CNN records.
There was another NATO fatality in Afghanistan on Thursday. The victim's nationality has not been announced.
CNN Pentagon Correspondent Barbara Starr contributed to this report.
FOLLOW THIS TOPIC