STORY HIGHLIGHTS
Thousands of ethnic Uzbeks in south of country forced to flee
Estimate of refugees rises from 80,000 to more than 120,000
President Kurmanbek Bakiev was toppled in an uprising in April
Worst violence since clashes between Kyrgyz and Uzbeks in 1990
(CNN) -- The recent outbreak of ethnic violence in Kyrgyzstan threatens to further destabilize the central Asian country two months after President Kurmanbek Bakiev was toppled in an uprising.
More than 170 people have been killed and around 1,400 wounded in the south of the country, forcing thousands of ethnic Uzbeks to flee across the border into neighboring Uzbekistan amid the worsening security situation.
What's behind the crisis?
Bakiev's removal from power on April 7 after bloody clashes between police and protesters in the capital, Bishkek, has ignited old grievances between ethnic Kyrgyz and the minority Uzbek population. Opposition leaders had accused Bakiev of corruption and consolidating power by keeping key economic and security posts in the hands of relatives or close associates.
The focal point of the current violence has been the south of the country, where Bakiev enjoys the bulk of his backing and where his supporters have sought to undermine the provisional administration in Bishkek led by Roza Otunbayeva.
An uneasy calm falls on Kyrgyzstan

Video: Kyrgyzstan accusations fly

Video: Uzbekistan closes border with Kyrgyzstan

Video: Ethnic violence ravages Kyrgyzstan

Video: Crisis engulfs Kyrgyzstan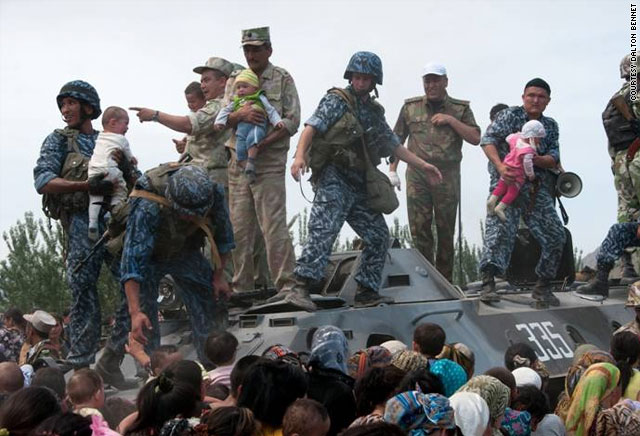 Gallery: Ethnic clashes rage in Kyrgyzstan
The main city in this region, Osh, is also home to a sizeable Uzbek population, many of whom resented the Bakiev regime because of its apparent favoritism towards ethnic Kyrgyz. But many Kyrgyz in the south fear the Uzbeks, who make up around 15 percent of the country's 5.5 million population, will swallow up more land, particularly in the fertile plain known as the Fergana Valley, which straddles Kyrgyzstan, Uzbekistan and Tajikistan -- all former Soviet republics.
As a result, the political antagonism that resulted from the removal of Bakiev has evolved into ethnic unrest, according to Lilit Gevorgyan of IHS Global Insight.
This volatile situation has been made worse by the inability of the interim government to control security. This has allowed criminal gangs from both ethnic groups to thrive, with street brawls between rival gangs sparking widespread violence, added Gevorgyan.
"The downfall of Bakiev's regime left many organized criminal groups in a vulnerable position and almost immediately translated into a parallel fight for power in the criminal underworld," she told CNN.
But it's basically about Kyrgyz against Uzbeks?
It's not quite as simple as that. Gevorgyan says some Uzbeks were actually supportive of Bakiev's regime because he was seen as a fellow "southerner" sitting in the capital in the north who could provide lucrative economic and political advantages.
Has this ethnic tension flared before?
Yes. In 1990, more than 300 people died during clashes between Kyrgyz and Uzbeks over land ownership near Osh. Soviet leader Mikhail Gorbachev was forced to send in troops to quell the violence.
Who is to blame?
The fact that there has been a breakdown in effective security forces outside of Bishkek means that this was indeed a crisis waiting to happen again.
Asher Pirt, an expert on Central Asian affairs who has also served as an international observer in previous Kyrgyz elections, told CNN that the provisional government is also partly to blame for its ineffective governance. "The new administration has failed to reach a suitable political settlement in Kyrgyzstan since taking control," he said.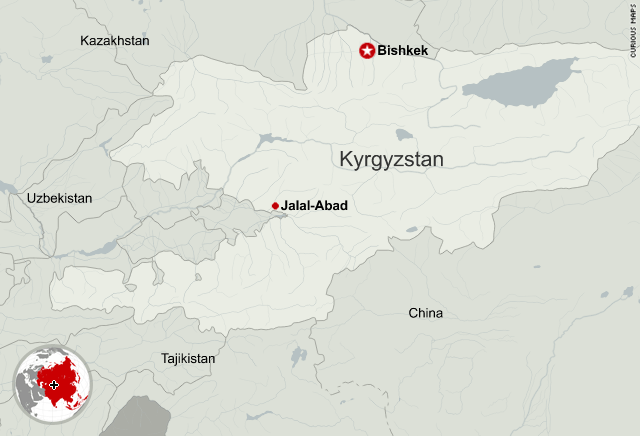 Kyrgyzstan map
Annexed by Russia in 1864
Independence from Soviet Union in 1991
Natural resources: Gold, coal, oil, gas
Borders China, Khazakhstan, Tajikistan Uzbekistan
GDP: $11.6 billion
Manas air base was used by U.S. until recently for refueling jets heading to Afghanistan
Source: U.N./CIA Factbook
Pirt believes that until the new central government has gained legitimacy in all the Kyrgyz Republic's regions through free and fair elections in October, it is likely that there will be further unrest and possible deaths.
For its part, the interim government accuses Bakiev and his supporters of orchestrating the violence, a charge he denies.
Are there implications internationally?
More than 120,000 ethnic Uzbeks have streamed into camps in neighboring Uzbekistan, according to the Uzbek foreign ministry, prompting it to close a number of border crossings and ask for international assistance. Pirt fears Uzbekistan may be forced to intervene militarily if the death toll across the border continues to climb, leading to further instability in Kyrgyzstan.
Other countries which border Kyrgyzstan, including China, Kazakhstan, Tajikistan, will also fear being drawn into the crisis.
Further afield, the United States and Russia are also extremely concerned about the unrest in a country considered strategically important. Washington uses the Manas airbase near Bishkek as a transit point for its operations in Afghanistan, while Moscow also has military bases in the country. "The U.S. needs a stable Kyrgyzstan in order to keep the supply route working," says Pirt.
What's the next step?
Although the violence has calmed, a state of emergency remains in the southern cities of Osh and Jalal-Abad, with police given the authority to shoot to kill.
At the height of the violence, interim leader Roza Otunbayeva asked for Russian peacekeepers to help end the unrest after admitting the situation had gotten "out of control" and "we need outside military forces to solve the situation."
However President Dmitry Medvedev's spokeswoman said humanitarian aid and not troops were being rushed to the area at present, the Kremlin said. "This is an internal conflict and Russia does not yet see the conditions for its participating in resolving it," spokeswoman Natalya Timakhova was quoted as saying by the Kremlin press service.
U.N. Secretary-General Ban Ki-moon said he intended to discuss the crisis with key members of the U.N. Security Council upon his return to New York later Wednesday.
The growing humanitarian crisis on the ground prompted the U.N. and the International Red Cross to call on Uzbek president Islam Karimov as well as the authorities in neighboring Tajikistan to keep their borders open. They say ethnic Uzbeks forced to stay in Kyrgyzstan without effective state protection are at risk.
One U.N. plane, loaded with tons of tents, landed in the area Wednesday and others were on the way. Several countries, including the United States, Germany and Russia, have also sent aid.
FOLLOW THIS TOPIC