STORY HIGHLIGHTS
Stories are emerging of abuses and crimes against ethnic Uzbeks in Kyrgyzstan
Testimonies claim Uzbek women being raped by Kyrgyz gangs
ICRC: Hundreds of thousands of ethnic Uzbeks driven from homes in southern Kyrgyzstan
Over 100,000 have fled to camps in neighboring Uzbekistan
Andijan, Uzbekistan (CNN) -- Lying on his hospital bed in Andijan, in eastern Uzbekistan, 65-year-old Khikmatullo Urunbayev, an ethnic Uzbek grandfather from Osh, in southern Kyrgyzstan, had tears in his eyes as he lifted his arm for us to see.
A bullet fired by an ethnic Kyrgyz gunman had shattered his bone a few days before. The agony, he told us, was still unbearable.
He said a gang of ethnic Kyrgyz men came to his home last Thursday, shot him, then ordered his entire family to leave the country. They then set his house alight, he says.
"They shouted that Kyrgyzstan is for the Kyrgyz," Kimatullo said. "And that there is no place for Uzbeks here."
Are you there? Share your photos, videos and stories
It is a message of ethnic intolerance that has been delivered with appalling violence, and which has, according to the International Committee of the Red Cross (ICRC), driven hundreds of thousands of ethnic Uzbeks from their homes in southern Kyrgyzstan.
What's behind Kyrgyzstan's ethnic unrest?

Video: Refugee camps for Uzbeks

Video: Survivors of violence share tales

Video: Ethnic violence ravages Kyrgyzstan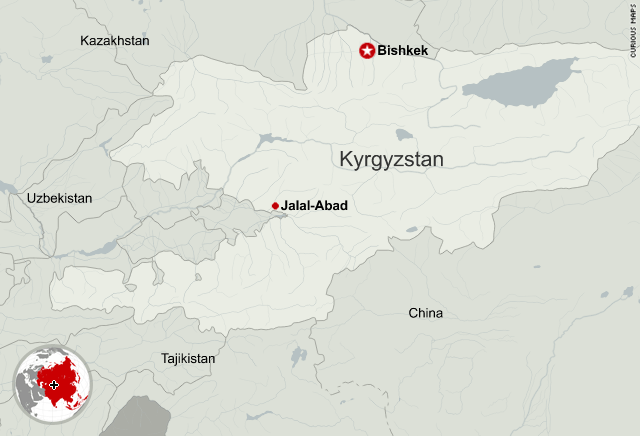 Kyrgyzstan map
More than one hundred thousand have fled to camps in neighboring Uzbekistan, where horrifying stories are emerging of abuses and crimes.
In the intensive care unit of the hospital ward next to that of Kimatullo, we found Erkin, clinging on to life.
He could barely speak, but told us he'd been badly beaten by a Kyrgyz mob.
Doctors say his skull and jaw were fractured, and that his throat had been cut from ear to ear.
There is also evidence he had been tortured before being left for dead. Doctors say boiling water appears to have been poured over his genitals.
Hospitals in this part of Uzbekistan are filled with the injured survivors of the ethnic violence across the border.
But it is not just men who have been attacked.
Disturbing testimonies are emerging of Uzbek women being raped by Kyrgyz gangs.
In a hospital in Jala Kuduk, Uzbekistan, near the Kyrgyzstan border, we met two traumatized sisters. They agreed to talk only if we hid their faces.
"We were taken to a cafe where our men were separated from us," one of them tells us.
"Then, me and my sisters were raped at knifepoint, as our mother was held back. They recorded us on cellphones, and were laughing," she says.
It's just one example of the emerging horrors of the violence over the past week in Kyrgyzstan.
FOLLOW THIS TOPIC