North Korea heats up rhetoric toward U.S.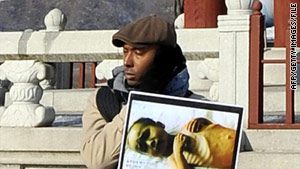 Aijalon Mahli Gomes, in a photo from January 12, was arrested after entering North Korea on January 25.
STORY HIGHLIGHTS
U.S. is "persistently antagonizing" North Korea, NK says
Tougher penalties mulled against jailed American
Tensions ramped up over sinking of warship
(CNN) -- North Korea may consider a tougher punishment for a jailed American citizen if the United States "persists in its hostile approach" toward Pyongyang, North Korea's official news agency said Thursday.
North Korea said the United States is "persistently antagonizing" the country over the sinking of a South Korea warship in March, an act Seoul blames on North Korea, the Korean Central News Agency reported.
"Such moves have gone beyond the tolerance limit," said North Korea, which vehemently denies the charge that it fired a torpedo at the ship, the Cheonan, sinking it and killing 46 members of its crew.
The United States is ramping up international pressure against North Korea, KCNA said.
"The DPRK had already solemnly declared that it would consider the prevailing situation as a war phase and handle all relevant issues according to a wartime law," the news agency said. DPRK is an acronym for North Korea's official name, the Democratic People's Republic of Korea.
North Korea said it is examining what "additional" steps it will take against Aijalon Mahli Gomes, an American man who has been sentenced to eight years hard labor for illegally entering North Korea. He was arrested after crossing the North Korea-China border on January 25.

Video: Sidebar: Ship-sinking case
A wartime law status could amount to tougher penalties.
The American was, according to South Korean press reports, an English language teacher with strong Christian convictions, who had taken part in anti-North Korean protests in the South.
"The U.S. government is requesting the DPRK to leniently set him free from a humanitarian stand, but such thing can never happen under the prevailing situation and there remains only the issue of what harsher punishment will be meted out to him.
If the U.S. persists in its hostile approach toward the DPRK, the latter will naturally be compelled to consider the issue of applying a wartime law to him," the new agency reported.
The loss of the Cheonan in March raised tensions on the Korean Peninsula.
North and South Korea presented their cases to the United Nations recently, with South Korea urging the Security Council to take "timely and appropriate measures."
North Korea's envoy said that if the "Security Council releases any documents against us, condemning or pressuring us ... then myself as diplomat, I can do nothing. ... The follow-up measures will be carried out by our military forces."
FOLLOW THIS TOPIC