U.S. urges North Korea to free American after suicide attempt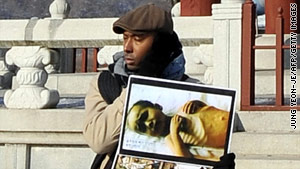 Swedish diplomats met Aijalon Mahli Gomes, shown this past January at a rally in Paju.
STORY HIGHLIGHTS
Swedish diplomats meet with Aijalon Mahli Gomes
Boston-area native serving an eight-year sentence in North Korea
Media reports: He recently attempted suicide
Swedish Embassy represents U.S. interests in the nation
(CNN) -- The U.S. is urging Pyongyang to release an American held captive after reports that the man attempted suicide in a North Korean prison.
Swedish diplomats met with Aijalon Mahli Gomes, a U.S. State Department official confirmed Friday. He declined to release details about the 31-year-old's condition, citing respect for the family's privacy.
"We reiterate our urge for the North Korean government to release Mr. Gomes on humanitarian grounds," said Mark Toner, a spokesman for the U.S. State Department.
"A Swedish official had been granted consular access eight times, including today's visit," Toner said. "I think we're concerned about his welfare and -- as we would with any American citizen."
North Korea's official news agency reported Friday that the Boston-area native serving an eight-year sentence in North Korea recently attempted suicide.
Gomes attempted to take his own life "driven by his strong guilty conscience, disappointment and despair at the U.S. government that has not taken any measure for his freedom.," state-run Korean Central News Agency said.
The news agency said the Swedish Embassy, which represents U.S. interests in North Korea, had "acquainted itself with the condition of the patient at the hospital."
Calls to the Swedish Embassy in Pyongyang were unanaswered over the weekend.
The Swedish Ministry of Foreign Affairs said it does not comment on individual cases and declined to confirm or deny its involvement.
Gomes was arrested after crossing the North Korea-China border on January 25. In April, he was sentenced to eight years of hard labor for what state media described as "a hostile act committed against the Korean nation."
The American was, according to South Korean news reports, an English language teacher with strong Christian convictions, who had taken part in anti-North Korean protests in the South.
Last month, the news agency reported that North Korea may consider a tougher punishment for Gomes if the United States "persists in its hostile approach" toward Pyongyang.
Two American journalists -- Laura Ling and Euna Lee, who had crossed the border last March and were arrested and sentenced to 12 years hard labor -- were released in August after an intervention by former U.S. President Bill Clinton.
Robert Park, a Korean-American Christian evangelist who was arrested after entering the country on Christmas Day, had given a media interview in which he stated his aim to force change in North Korean human rights conditions.
He was released in February after telling North Korean state media that he had been wrong about human rights conditions there.
FOLLOW THIS TOPIC