STORY HIGHLIGHTS
The crew of four sailed almost 4,000 miles from Tonga to West Timor in a tiny open boat
They lived on a diet of two ship's biscuits and 85 grams of tinned corn beef a day
The crew relied on 18th century navigational tools, with no charts in order to find their way

London, England (CNN) -- Food deprivation and almost capsizing in gale-force winds are some of the obstacles that faced Captain Don McIntyre and his crew as they sailed almost 4,000 miles across the Pacific ocean in a tiny open boat.
Over seven weeks, the four-man crew re-enacted Captain William Bligh's epic 1789 voyage, retold in several books and films as "The Mutiny on the Bounty."
McIntyre led his crew on the Talisker Bounty Boat from Tonga to West Timor crossing part of the Pacific Ocean using 18th century navigational equipment and no charts.
They survived on a starvation diet of two "ship's biscuits" (hard biscuits made of flour, water and sometimes salt) and a couple of spoonfuls of tinned corned beef a day.
"We only had the same amount of food and water [as the original voyage] -- so we had serious food deprivations. I lost 18 kilograms during the voyage which created health issues for me," McIntyre told CNN.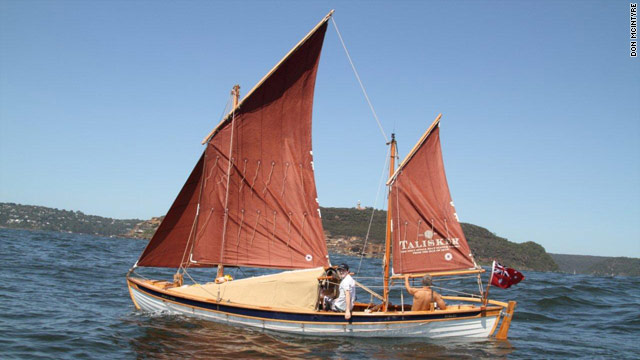 Gallery: After the mutiny: Recreating Bligh's voyage
The voyage -- organized to raise money for a Motor Neurone Disease charity -- also put the crew in considerable danger.

They had to constantly bail out the 7.5-meter (25 foot) long boat to stay afloat, and were almost capsized by a two-meter (six foot) wave crashing over the side of the boat in gale force winds.
They even found themselves in a reef bed in the dead of night: "We were about two minutes from certain death at one point," said McIntyre.
"All of a sudden we saw these huge breakers [surf hitting the reef]. We were only 150 meters away, trying to crawl in the dark off this reef.
"It's not to be recommended sailing without charts in this day and age I promise you. Bligh went through exactly the same thing. So, there are a lot of parallels there. Bligh was very lucky and so were we," said McIntyre.
McIntyre and his crew were raising money for The Sheffield Institute Foundation for Motor Neurone Disease. The aim was to raise $219,500 (AUD 250,000) and so far they have raised $83,000.
But for McIntyre the expedition was also a personal one.
"From all my adventures in the past this was without doubt one of the greatest I've ever been involved with. It was just so simple and basic and just a hell of a lot of fun as well as a tremendous and epic challenge," he said.
An adventurer at heart, Captain McIntyre is one of Australia's most experienced sailors, whose pervious exploits have included circumnavigating the globe and living in a hut in Antarctica for a year.
His three crew members included master mariner and naval architect David Pryce, Hong Kong business man and sailing enthusiast David Wilkinson and first time sailor, 18-year-old Chris Wilde.
The original mutiny took place on the HMS Bounty in 1789. Captain Bligh and 18 of his men were forced onto an overcrowded longboat with limited supplies while Bligh's ship and the rest of his crew set sail for Pitcairn Island in the southern Pacific Ocean.
It was the beginning of a 48-day voyage, during which the motley crew were chased by hostile natives while sailing across the storm-tossed Coral Sea, constantly bailing to stay afloat and desperately short of food and water. It was an epic ordeal, which was to become one of the greatest open-boat voyages in maritime history.
And, although McIntyre and his four man crew tried to be as faithful to the original voyage as possible, some things just couldn't be recreated.
There were, of course, no angry natives chasing them and their boat was equipped with a GPS tracking system, locked away from the crew, so their course could be charted.
Even their diet was better than the original crew members had faced, as McIntyre explained:
"We had exactly the same amount of food that Bligh had...but of course he had to split it 18 ways whereas we split it just four. But I mean they were nearly dead when they arrived, we were just a little bit unhealthy."
FOLLOW THIS TOPIC