China says controversial dam standing firm amid flooding
STORY HIGHLIGHTS
Three Gorges Dam which spans China's Yangtze River, opened in 2009
China: Dam has seen its biggest flood crest since it was opened
World's biggest hydroelectric project is designed to help flood control
Critics point to the negative environmental impact of the dam
Beijing, China (CNN) -- The giant Three Gorges Dam which spans China's Yangtze River in Yichang, Hubei Province, has withstood the biggest test of its flood control capabilities since it was completed in 2009, according to a senior official.
The massive but controversial dam has seen its biggest flood crest since it was opened: flood water with speeds of 70,000 cubic meters per second hit the dam early this week. Liu Ning, vice minister of Water Resources, said this is 20,000 cubic meters per second more than the flood that killed 4,150 people in 1998.
"The Three Gorges Dam is instrumental in our flood control efforts," Liu told reporters in Beijing.
Southern China braces for tropical storm
"We are able to control the outward flow of flood water as it goes downstream," Liu said, noting that, without it, the smaller dams and the towns and cities along the lower reaches of the Yangtze would be seriously endangered.

Video: China's fierce flooding

Video: China's flooding woes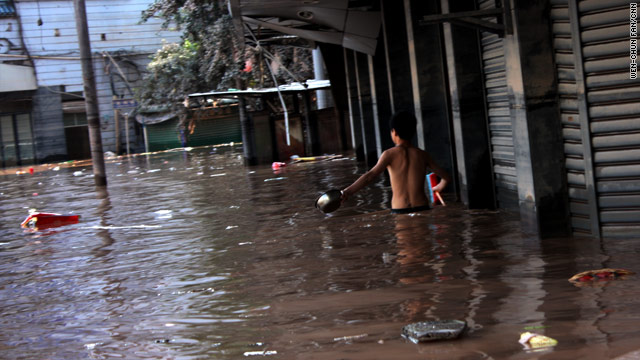 Gallery: Floods hit Guangan City, Sichuan China
Built at an estimated cost of $24 billion, the centerpiece of the world's biggest hydroelectric project is designed to help flood control, capable of holding back 22 billion cubic meters of extra flood water, according to the Chinese government.
But the project has also faced criticism after hundreds of thousands of people were displaced to make way for the dam and reservoir. Environmentalists also fear the dam could create an ecological disaster, with reports of landslides and severe erosion downstream.
After the deadly flooding in 1998, China reinforced and rehabilitated major dikes along the Yangtze, Liu said.
"We have completed 29 projects after 1998. They serve as the pillar of our flood control."
He said that so far this year, they have seen only "sporadic breaches of dikes," including those in Jiangxi and Anhui provinces.
Responding to questions about potential issues with any of the 29 projects, Liu said: "We have examined these projects and so far we have not discovered any problems of quality."
In the coming weeks, Liu said they would monitor floodwaters in the major rivers like the Yangtze and Huaihe, and Dongting lake.
China will take more preventative measures, improve weather forecasting, monitoring and public information, and guard against the danger posed by looming tropical storms.
China expects six to eight typhoons this year.
FOLLOW THIS TOPIC