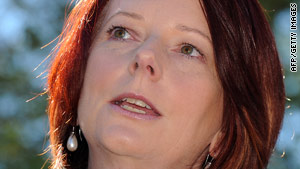 Gillard said she would embrace the Carbon Pollution Reduction Scheme that her predecessor delayed.
STORY HIGHLIGHTS
Ousted prime minister says he's had talks with the U.N. about joining its panel
Prime Minister Julia Gillard embraces policy that led to predecessor's downfall
'The price of inaction is too high a price for our country to pay,' she says
Firms that need to use carbon would have to acquire permits
(CNN) -- Australian Prime Minister Julia Gillard on Friday embraced the same policy on climate change that her predecessor failed to pass, but said in a campaign speech that any action would be delayed until at least 2012.
"The price of inaction is too high a price for our country to pay," she said at the University of Queensland in Brisbane. "Because the price of inaction is price rises, job losses and innovations lost."
The topic helped topple her predecessor, Kevin Rudd, whom Gillard had served as deputy prime minister until the Labor Party transferred its support to her last month. With elections less than a month off, Gillard laid out her plans to address the issue if the party retains power.
Gillard said she would embrace the Carbon Pollution Reduction Scheme (CPRS) that Rudd delayed after the conservative coalition and the Greens Party failed to sign on.
Rudd's move -- after referring to the issue as the "great moral and economic challenge of our time" -- was seen as key to his rapid tumble in popularity polls.

Video: Key issues for Australian voters
Gillard said firms that need to use carbon would have to acquire permits, which could be traded -- "so that there is an incentive to reduce carbon pollution and so the permits can be used in the most efficient and most productive ways."
Money from the sale of permits would help communities, families and firms make the transition to a low-carbon economy, she said. The biggest polluters would pay the most and overall pollution would be cut.
"I think the scientific and economic consensus shows that emissions trading is essential to limiting and reducing pollution," she said.
Though she acknowledged that the scheme is "ambitious and complex," she said she was confident that Australians would accept it if it were explained to them in a different way.
"The first lesson is that, if you want to make a big change for our nation, the political process must be connected with the community," she said.
Gillard left no doubt where she stands on global warming.
"My starting point is that climate change is real and it is caused to a significant extent by human activity," she said. "The science tells us that we need to limit the growth of carbon pollution in our atmosphere to 450 parts per million if we are going to have a chance of limiting global temperature growth to two degrees or less."
That explains the government's commitment to cut pollution levels by at least 5 percent by 2020 compared with levels in 2000, she said.
"We have not abandoned our commitment to take action on climate change," she said, noting that the government announced in April that it had made "a difficult decision" to defer the CPRS until at least 2012.
A Climate Change Commission -- an independent source of information and expert advice -- will be formed to explain the science and report on progress, she said.
Though not everyone will be persuaded, she said, "I will not allow our country to be held to ransom by a few people with extreme views that will never be changed."
Meanwhile, Rudd confirmed that he's had talks with the United Nations Secretary-General Ban Ki-moon about joining a high-ranking U.N. panel.
Ban called Rudd a few weeks ago and discussed a position on a U.N. panel that focuses on various development issues, Rudd's office said in a statement.
Rudd's spokesman declined to comment on widespread reports in the Australian media that the former prime minister's role on the panel would focus on combating climate change.
CNN's John Raedler contributed to this report