Afghan president says NATO responsible for 52 civilian deaths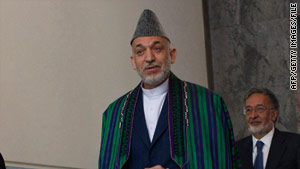 Afghan President Hamid Karzai's office said Friday's attack killed civilians in Sangin district's Rigi village.
STORY HIGHLIGHTS
Afghan president says 52 civilians in a village were killed in recent NATO strike
NATO's international security force: Troops responded to insurgent fire outside village
NATO says there is no evidence of civilian casualties
(CNN) -- Afghanistan President Hamid Karzai on Monday condemned a NATO strike in Helmand province that he said caused 52 civilian deaths.
NATO says there is no evidence of casualties beyond insurgents.
A statement from Karzai's office said Friday's attack killed people in Sangin district's Rigi village. Karzai called on NATO forces to make avoiding civilian casualties a top priority.
A joint investigation by the NATO-led International Security Assistance Force and the Afghan government is underway, according to an ISAF spokesman.
"Any speculation at this point of an alleged civilian casualty in Rigi Village is completely unfounded," said Rear Adm. Greg Smith. "We are conducting a thorough joint investigation with our Afghan partners and will report any and all findings when known."
An ISAF statement said a joint operation occurred 10 kilometers (6 miles) south of Rigi, and that international and Afghan forces came under attack by machine guns and rocket-propelled grenades. Coalition forces responded with helicopter fire and precision-guided missiles against the insurgents.
ISAF said "all fires were observed and accounted for and struck the intended target," and that six insurgents -- including a Taliban commander -- were killed in the strike. The information was verified by "ground observation and intelligence sources."
FOLLOW THIS TOPIC