Violence in Kashmir leaves 8 dead, 67 hurt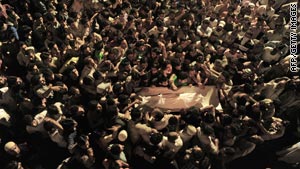 The body of a boy killed in clashes Monday is carried through the streets of Srinagar, India.
STORY HIGHLIGHTS
This is the fourth day of around-the-clock curfews amid protests
Eight people were killed and 67 wounded Monday
Government official pleads with residents to abide by curfews
Srinagar, India (CNN) -- Eight people, including a young boy, were killed and 67 were wounded Monday in continued clashes between protesters and security forces in Indian-administered Kashmir, a police spokesman said.
The spokesman said four people were killed when mobs attacked police stations, police camps and railway and government property in south and north Kashmir. Police and security forces tried to disperse the mobs by using tear gas and baton charges. When the mob kept throwing rocks and setting fires, police shot into the crowd, the spokesman said.
Another person was killed in a stampede when police chased away a mob in Sangam in south Kashmir, the spokesman said. However, locals alleged that the person was beaten by the security forces, not killed in a stampede.
Another stampede critically injured an 8-year-old boy in Batmallo, near Srinagar, the capital of Indian-administered Kashmir. The boy died Monday evening, the spokesman said.
Tension gripped Bijbehera in south Kashmir, he said, after a 22-year-old who was critically wounded during fighting Saturday died Monday morning.
Indian police also fired Monday at a rock-throwing mob in the south Kashmir town of Kulgam, killing a youth and wounding four others, the police spokesman said.
Overall, nine civilians, 29 police officers and 28 soldiers were injured Monday, he said.
On Sunday, eight people, including a young girl, were killed and 24 were wounded, he said.
The violence was sparked Friday when a youth was critically wounded during Indian security force fighting in the capital city. Authorities said 22 people have been killed and scores wounded in the violence across Kashmir.
The protesters are seeking independence from India.
State Chief Minister Omar Abdullah appealed to the people to help his government restore calm and asked them to abide by around-the-clock curfew restrictions.
"I am not happy with frequent curfews, but human life matters more than the human movement," Abdullah said.
People in curfew-bound areas of the city are facing shortages of baby food, vegetables, bread and other essentials.
Journalist Mukhtar Ahmad contributed to this report.
FOLLOW THIS TOPIC