STORY HIGHLIGHTS
NEW: More than 3 million directly affected in flood-ravaged parts of Pakistan
U.N. says thousands of Afghan refugees are among the displaced
Forecasters predict more heavy rain for some areas
As many as 1,500 people may have been killed
Peshawar, Pakistan (CNN) -- More than 3 million people have been directly affected and more than 1,400 have been killed by floods in northwestern Pakistan's Baluchistan and Khyber Pakhtunkhwa provinces, an aid group said Tuesday, citing officials.
Earlier Tuesday, a Pakistani Red Crescent official told CNN that nearly 2.5 million people had been affected by the floods, which began last week.
As the water recedes, more devastation has been revealed as previously isolated areas have become more accessible, Medecins Sans Frontieres said in a statement. But more rain predicted for coming days could cause renewed problems, said the group, also known as Doctors Without Borders.
Limited access to clean water and poor hygienic conditions have raised the threat of widespread acute respiratory infections, diarrhea and skin infections, said the doctors' group, which is supporting health units in Mandrakhel, Wadpaga, and Gulbela in the Peshawar district, and the Paddi Hospital in the Nowshera district.
Collapsed bridges meant the MSF teams were unable to reach the badly hit North Swat region. A case of cholera has been confirmed in Swat, it said.
The flooding -- caused by torrential monsoon rains -- may have killed as many as 1,500 people, a government official told reporters.
Floodwaters washed out many roads, highways and bridges, isolating a number of communities.

Video: More rain compounds Pakistani misery

Video: Reaching Pakistan's flood victims

Video: Pakistan's pain

Video: Pakistan ravaged by floods
"This is the key issue for the next day, to find [a] solution to access the population in remote valleys," Jean-Marc Favre of the International Committee for the Red Cross told CNN Tuesday.
About 46 of Pakistan's 135 districts have been affected, said the World Health Organization, which is coordinating the health response. At least 39 health facilities and the medications they contained have been destroyed, resulting in a need for more medical and related materials, it said.
By the end of Monday, mobile teams and fixed health facilities had treated more than 15,000 patients, many of whom were suffering from diarrhea, WHO said.
Displaced people -- including thousands of Afghan refugees -- were crammed into public buildings and schools, officials said.
"Those who survived these punishing floods are still at grave risk. They are exposed and vulnerable and urgently need our help," U.N. High Commissioner for Refugees Antonio Guterres said. "The Pakistani people of this region have been serving as the generous hosts of more than a million Afghan refugees. Now is the time for the international community to demonstrate the same kind of solidarity with them."
Pakistani authorities also are confronting another key issue: making sure flood-ravaged areas do not become easy targets for a Taliban resurgence.

Video: Pakistan flooding kills hundreds

Video: Flooding engulfs Pakistan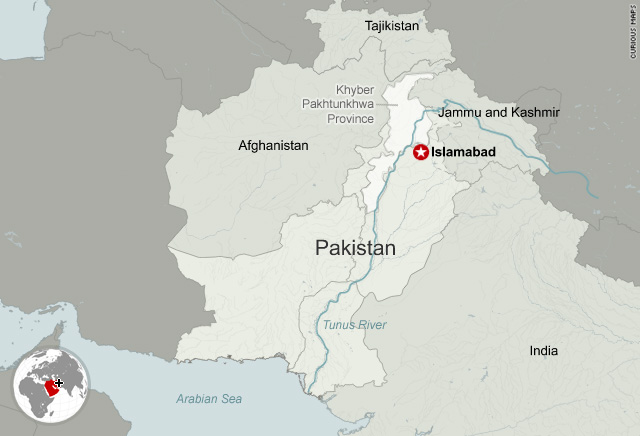 Map: Flood-hit Pakistan
Waterborne diseases also are a "serious" threat, Favre said.
"Our doctors are reporting many cases of respiratory illness and diarrhea," said Annie Foster, Save the Children's associate vice president for humanitarian response. "If these illnesses are not treated promptly, they can be life-threatening to babies and young children."
Some residents have said rescue and relief efforts are not moving quickly enough.
The U.N. World Food Programme said Monday that nearly 980,000 people had lost their homes or been displaced in four districts -- Nowshera, Charsadda, Mardan and Peshawar.
About 80,000 homes were destroyed in the four districts, and another 50,000 were damaged, it said. Nowshera district had the highest number of affected people, more than 650,000, while Charsadda suffered serious damage, losing all its crops, it said.
The U.N.'s refugee commission said it aimed to reach 250,000 of the country's most vulnerable with non-food items like tents, blankets, buckets, plastic sheets and kitchen sets. The agency said it had delivered 10,000 tents to local authorities in Baluchistan and Khyber Pakhtunkhwa and plans to procure 20,000 more tents from suppliers in Pakistan.
Rain began falling again Tuesday in Pakistan, where isolated areas were expected to get as much as 25 to 75 millimeters (1 to 3 inches) by Thursday.
Between Guddu and Sukkur, the Pakistan Meteorological Department is expecting the Indus River to rise to extreme levels. The water in the Indus, Pakistan's longest and most important river, has tripled since week's rainfall.
Floodwater will not reach the Arabian Sea until around August 11.
Monsoon rains in the region typically lasts through mid-September.
Many governments and non-profit organizations, including the United States, the United Nations and the European Commission, have pledged aid.
Read why the United States sees its aid role in Pakistan as important
President Asif Ali Zardari has said all available resources would be used to help those stranded by the water, the state-run news agency reported.
CNN's Reza Sayah and Judson Jones contributed to this report.
FOLLOW THIS TOPIC