STORY HIGHLIGHTS
NEW: Pakistan's government "stretched to the breaking point," Holbrooke says
Floods leave more than 4 million people homeless
U.S. Secretary of State Clinton announces U.S. boosting Pakistan aid to $150M
See high-definition photos of the Pakistan flooding.
United Nations (CNN) -- The estimate of the number of Pakistanis left homeless by massive flooding has doubled to 4 million, the United Nations said Thursday, as Washington ramped up assistance.
U.S. Secretary of State Hillary Clinton announced an additional $60 million in U.S. aid, bringing to $150 million the amount pledged by the United States.
"The flooding has already affected more people than the Indian Ocean tsunami, the Haiti earthquake and the 2005 Pakistan earthquake combined," she told a plenary session at the United Nations. "And as we meet, we fear that a new wave of water may be about to sweep through areas that have already been devastated by the floods."
She added, "We see 20 million members of the human family in desperate need of help. This is a defining moment -- for Pakistan, and for all of us.

Video: Life in a flood relief camp

Video: Aid slow to flood-ravaged Pakistan

Video: Life at a Pakistan relief camp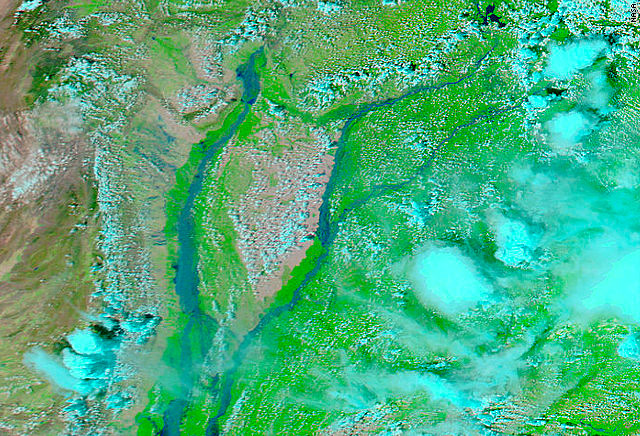 Pakistan flood: Before and after
"I want the people of Pakistan to know: The United States will be with you through this crisis. We will be with you as the rivers rise and fall. We will be with you as you replant your fields and repair your roads. And we will be with you as you meet the long-term challenge to build a stronger nation and a better future for your families."
She predicted the situation will worsen before getting better. "More than 800,000 houses have been damaged or destroyed; 2 million people have been forced to flee their homes; hundreds of bridges have been washed away, cutting off communities from relief supplies," she said.
Clinton called on Americans to contribute to the Department of State's Pakistan Relief Fund.
Ban Ki-moon: Pakistan crisis a 'slow-motion tsunami'
In New York, the Obama administration's special representative for Pakistan, Richard Holbrooke, told CNN that the floods, which cover a land mass larger than Italy, have severely affected the government.
"The Pakistan government has been stretched to the breaking point, and I've been told by the foreign minister that the biggest problem has been at the local level, where local governments have been drowned, wiped out, overwhelmed, as well as at the national level."
Holbrooke said the scope of the problem has yet to be determined. "Once the water recedes, there is going to be a staggering reconstruction cost," he said, adding that other nations must help.
"We want to be first with the most assistance, but we can't do it alone," he said. "The amount will increase, but it's going to be an international effort."
Separately, Sen. John Kerry said Thursday that $200 million from Kerry-Lugar Bill allocations will be diverted to flood assistance. The bill, named after Kerry and Republican Sen. Dick Lugar, grants $7.5 billion in nonmilitary aid to Pakistan for social and economic development.
The Democrat from Massachusetts said the United States stands by Pakistan's struggling democracy during this crisis, which could test its strength and provide openings for Islamic militants to gain strength.
"None of us want to see this crisis provide an opportunity or an excuse for people who want to exploit the misfortune of others for political or ideological purposes," Kerry said at a joint news conference with Pakistani President Asif Ali Zardari.
"And so it is important for all of us to work overtime and to provide the assistance that is necessary."
The call for aid heightened after new estimates of the homeless doubled. About 20 million people have been affected and the death toll has risen to 1,492, according to the Pakistan Disaster Authority.
About one-fifth of the country is submerged, and the threat of waterborne diseases such as cholera is a serious concern as families wade through chest-high, filthy water.
"We have decided to increase the number of targeted beneficiaries for tents and plastic sheeting, from the initial figure of 2 million to at least 6 million," said Maurizio Giuliano, spokesman for the U.N. Office for the Coordination of Humanitarian Affairs.
Pakistani Prime Minister Yousaf Raza Gilani has pledged to ensure relief funds end up in the right hands.
However, opposition leader and former Prime Minister Nawaz Sharif said he believes more international aid is not streaming in because potential donors want more transparency from the government. He proposed establishing an independent coalition to work on aid distribution.
The United Nations has received less than half of the $460 million it is seeking for relief efforts. Despite millions of dollars in support from other countries, the flow of aid is failing to keep pace with the need, aid agencies have said.
Analysts have blamed "donor fatigue" for the delay in aid reaching Pakistan.
Pakistan has been on a seemingly constant round of donor needs -- to revive its feeble economy, to fight the Taliban and to recover from the 2005 Kashmir earthquake and the 2009 refugee crisis.
CNN's Richard Roth contributed to this story.
FOLLOW THIS TOPIC