IMF, Pakistani officials to meet over economic impact of floods
STORY HIGHLIGHTS
The massive flooding has covered one-fifth of the country
More than 1,500 people have died in the flooding
Officials are seeking millions of dollars for aid
(CNN) -- International Monetary Fund officials will meet with members of the Pakistani government in Washington next week to discuss the economic impact of the massive floods that have ravaged the country.
"The floods which have hit Pakistan in recent weeks and brought suffering to millions of people will also pose a massive economic challenge to the people and government of Pakistan," said Masood Ahmed, director of IMF's Middle East and Central Asia Department.
Ahmed says the meeting will be an opportunity to evaluate the economic impact of the floods, assess what Pakistan's government is doing to respond to it and "discuss ways in which the IMF can assist Pakistan at this difficult juncture."
The massive flooding that has covered about one-fifth of Pakistan has claimed the lives of more than 1,500 people, authorities said Saturday.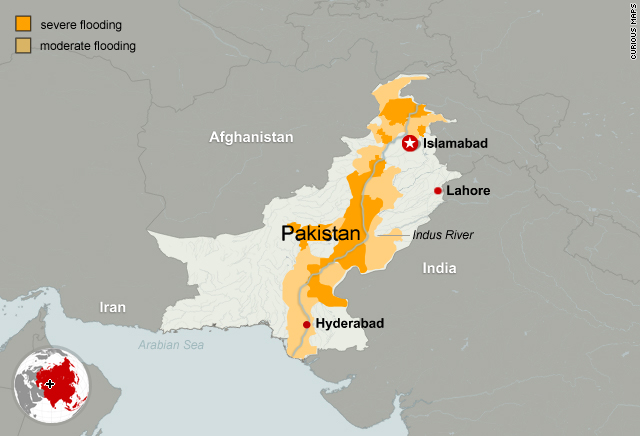 Pakistan flood zone
More than 200 health facilities have been damaged or destroyed, according to the World Health Organization, greatly reducing the available health care for millions of survivors in filthy conditions. At least 4 million people are homeless.
U.N. officials have appealed for $460 million over the next three months to help the roughly 20 million people in need of shelter, food and emergency care.
The United Nations has received about $263 million and an additional $54 million in pledges -- or about 70 percent of its goal, said Maurizio Giuliano, spokesman for the U.N. Office for the Coordination of Humanitarian Affairs.
FOLLOW THIS TOPIC


Part of complete coverage on

Be part of the solution. Get informed, connect to organizations and share how you have made an impact

If you or loved ones are being affected by the massive flooding, share your story, images or video with CNN.

Heavily-pregnant Rehmad Abbasi is lucky to be alive after being pulled from the water. "It sucked me under," she tells CNN, almost hyperventilating.

The United Nations has established more than a thousand health clinics across Pakistan in the wake of widespread flooding, a U.N. official says.

"The most vulnerable and have been disproportionately affected," an aid worker tells CNN.

Long-term recovery efforts in flood-ravaged Pakistan could take "many, many months, if not years"
As record flooding sweeps across large areas of Pakistan, keep up to date with all the latest news, pictures and video


Today's five most popular stories