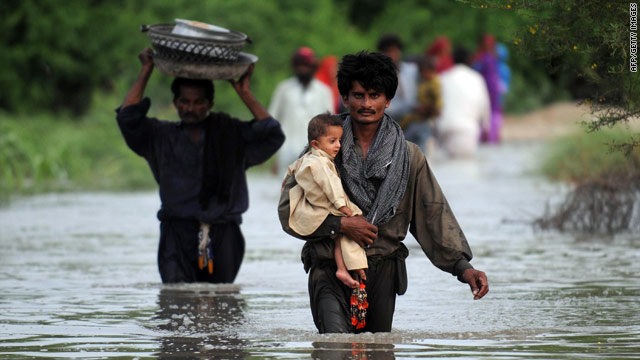 STORY HIGHLIGHTS
More than 1,500 people have died in the floods
Residents of Shahdadkot were desperate to reach dryer ground
They are victims of a second wave of water gushing down the Indus River
Waters are expected to recede but authorities fear a rise in disease
Shahdadkot, Pakistan (CNN) -- Shahdadkot's half-million people frantically tried to flee their homes Saturday as a wall of water threatened to burst mud berms and drown the entire city in Pakistan's Sindh province.
Three weeks into the worst natural disaster in Pakistan's history, people were still desperate to escape as a second wave of monsoon floodwaters surged southward. More than 1,500 people have died and 20 million lives have been disrupted.
Already, huge parts of Shahdadkot look like a lake, with the roofs of some houses barely above water. Authorities advised the entire population to evacuate.
Residents climbed onto heaps of belongings piled high in the beds of rickety trucks, packed buses, auto-rickshaws and carts to get out of town before the water came. Many did not know where they were going -- just that they had to reach drier ground.
But there weren't enough vehicles for a mass evacuation.
Sunat Magsi and her 100-strong extended family lost their nine mud huts to the raging torrents. They sought shelter in an abandoned house, but even there the water was creeping higher. They only had one donkey and one cart left.
"We have so many children here," Magsi said, weeping. "We don't know how we're going to get out. We need help."

Video: Pakistan flooding in perspective

Video: Stubborn flood victims refuse to leave

Gallery: Families uprooted by Pakistan floods
Pakistan is dotted with villages, towns and cities submerged like Shahdadkot. Floodwaters are expected to recede in the next few days as the last surges in the Indus River flow into the Arabian Sea.
But the suffering is sure to continue. Health officials fear that the human toll will get a lot worse as people are forced to wade through unsanitary water while clean drinking water is scarce.
More than 200 health facilities have been damaged or destroyed, according to the World Health Organization, greatly reducing the available health care for millions of survivors in filthy conditions. At least 4 million people are homeless.
Dr. Guido Sabatinelli of the World Health Organization said reports of diarrhea have increased 30 percent.
"The depth of suffering is incalculable as risks escalate of diarrhea, acute respiratory infection, malaria and other communicable diseases," Sabatinelli said. "It is crucial that all humanitarian health providers, local and national, coordinate their relief efforts closely to save lives, reduce suffering and deliver the most effective response."
United Nations officials have appealed for $460 million over the next three months to help the roughly 20 million people in need of shelter, food and emergency care.
The U.N. has received about $263 million and an additional $54 million in pledges -- or about 70 percent of its goal, said Maurizio Giuliano, spokesman for the Office for the Coordination of Humanitarian Affairs.
WHO said waterborne, airborne and contagious diseases, including acute watery diarrhea, measles, malaria and acute respiratory infections, are threats due to overcrowding, lack of hygiene and breakage in waterlines.
Meanwhile, International Monetary Fund officials said they will meet with members of the Pakistani government in Washington next week to discuss the economic impact of the massive floods that have ravaged the country.
"The floods which have hit Pakistan in recent weeks and brought suffering to millions of people will also pose a massive economic challenge to the people and government of Pakistan," said Masood Ahmed, director of the IMF's Middle East and Central Asia Department.
Ahmed says the meeting will be an opportunity to evaluate the economic impact of the floods, assess what Pakistan's government is doing to respond to it and "discuss ways in which the IMF can assist Pakistan at this difficult juncture."
CNN's Kyung Lah contributed to this report.
FOLLOW THIS TOPIC