STORY HIGHLIGHTS
U.N.: 3.5 million youth at risk of contracting waterborne illnesses

Doctors: Not enough medicine, space, resources to care for children

Cross-infection another issues at hospitals since patients so close to one another

Cases of diarrhea, skin diseases and respiratory infections are growing

Multan, Pakistan (CNN) -- Amiza Mai rushes through the hospital doors, tears streaming from her eyes and her two-month-old boy cradled in her arms. He is screaming.
Her baby boy Kalsoon has severe diarrhea and has been vomiting. He is so dehydrated that he needs fluids pumped into him intravenously immediately. He and his entire family are living in harsh conditions after losing everything in a rush of water. They are victims of Pakistan's mighty flood that has tossed so many families into chaos.
"I'm like a rolling stone, going here and there," says his mother, Amiza Mai. "My life is over. I have lost everything. And now I am at the mercy of others and the government."
Mai is surrounded by the piercing screeches of dozens of children in the same condition as her son.

Video: Children's hospital overwhelmed

Video: Pakistan's helping hands

Video: Floods affect Pakistan's children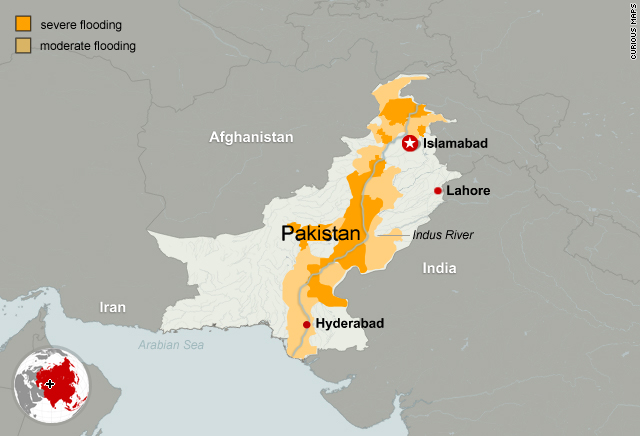 Pakistan flood zone
"I'm like a rolling stone, going here and there. ... My life is over. I have lost everything."
--Amiza Mai, who brought her infant to the hospital
There are children everywhere -- three, four, five to a bed -- and nearly all of them have intravenous drips. Their mothers sit near them holding their hands and stroking their heads, while nurses and doctors buzz around trying to cater to everyone's needs. It feels like organized chaos, if there is such a thing.
Are you in Pakistan? Share your story with CNN.
"We don't have enough space, we don't have enough doctors, we don't have enough medicines," says Dr. Ammara Ijaz, who, along with her staff, has been working 18-hour days for the last two weeks.
This is the new norm at Multan's Children's Hospital in Southern Punjab province. The hospital administrator says it is the only hospital that caters to children in an area with a population of about 40 million.
"The number of patients are depleting our resources so fast we will be out of everything in three months time," says Dr. Mukhtar Hussain, director of the Multan Children Hospital Complex Project.
That is if the pace continues. It has been this way for nearly three weeks now. Across the country, the United Nations Children's Fund (UNICEF) estimates 3.5 million children are at risk of contracting waterborne illnesses due to the conditions.
Through the tireless efforts of the doctors in this hospital, children who have fallen ill are being saved. Back in the ward, Ijaz receives an urgent call. One of her tiniest patients has stopped breathing. This time it is not a flood-affected family but a regular patient. She had been treating two-month old Fazan for gastroenteritis, or stomach flu, when he suddenly went into respiratory arrest.
The baby is so small and fragile that a member of Ijaz's team uses just one finger to perform CPR on his chest. The oxygen mask nearly swallows his little face. They are not sure how long he will survive. They managed to keep him alive, but he is only breathing with the use of a respirator.
"The problem with our country is the children are not getting proper nutrition," she said. "He was already malnourished when we were treating him for gastroenteritis."
Doctors are also facing the problem of cross-infection. The children from the flood zones are passing their illnesses onto other young hospital patients because they are all crammed together in the same room, on the same beds.
There is nowhere else to put them. Outside the lightly air-conditioned ward, in the overflow area, children lie on what looks like a long table with a sheet thrown over it. There is a grapevine of intravenous drips connected to the hands of dehydrated children, who have to endure the hot and humid outside air.
The scene is enough to throw a veteran doctor into despair.
"We need everything, including a new hospital wing. Where will we find the funds?" asks hospital director Hussain.
FOLLOW THIS TOPIC