Skate champions hold dream wedding on ice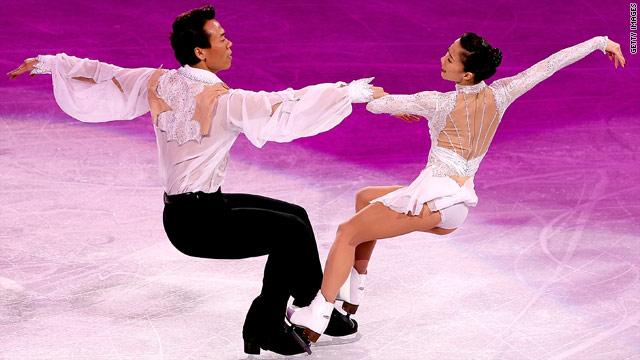 STORY HIGHLIGHTS
China's Zhao Hongbo and Shen Xue are Olympic pairs skating champions
Couple have been skating together since 1992; legally married in 2007
Skating stars performed routines as their wedding gifts to the pair
Performances include American Johnny Weir doing "Poker Face"
Beijing, China (CNN) -- It is a fairy tale romance of Olympic-sized proportions: China's 2010 gold medal pair skaters Zhao Hongbo and Shen Xue were married Saturday in front of thousands of fans -- on ice.
The wedding has been an affair three years in the making. Zhao proposed to Shen after a gold medal-winning performance at the 2007 World Figure Skating Championships.
Zhao and Shen have been skating together since 1992, and fell in love between practices and competitions around the world. After a short retirement, the pair returned to the ice to win gold in Vancouver in February, breaking nearly half a century of dominance by Russian and Soviet pairs.
Zhao and Shen, both born and raised in China's northeast city of Harbin, were legally married in China in 2007, but most Chinese do not consider a couple formally married until after a festive celebration with family and friends.
"We have been waiting a long time for this," Zhao said. "After the Olympics, we had some time to choose a place and we are so happy the time has finally come."
Saturday night, Shen skated out from a gate of flowers to join Zhao for what was a 15-minute wedding ceremony, a small part of the two-hour "Artistry On Ice" show at Beijing's Capital Gymnasium.
Shen wore a long white gown with a train and held a bouquet of pink flowers as Zhao greeted her on bended knee in a black tuxedo and skates. The couple exchanged vows in front of 13,000 spectators.
Alexei Yagudin of Russia and Mao Asada of Japan gave on-ice speeches to the newlyweds, recalling fond memories of watching them train and compete together and wishing them well in a new married life.
Immediately after the ceremony, Johnny Weir kicked off the celebrity-filled festivities, performing his signature program to 'Poker Face' by Lady Gaga.
While Weir was expected to steal the show, it was 2006 Olympic Champion Evgeni Plushenko who really wowed the wedding guests. Skating to "Sex Bomb" by Tom Jones, Plushenko shocked Chinese skating fans with a series of impressive jumps unusual to such exhibition events, while removing his jacket, shirt and pants in between each jump, eventually revealing a flesh-toned muscle suit that bulged from his upper torso and arms.
Plushenko completed a triple axel with ease, defying figure skating aerodynamics. Stephane Lambiel of Switzerland was also a crowd favorite. Known to be one of the best spinners in figure skating, Lambiel zipped his way through "Let the Good Times Roll" to roaring applause from the audience.
Many Chinese skating fans are overflowing with excitement on the web. User Xiaoxiao on a Sina.com blog said, "Bless you two, you're always the most beautiful couple on the ice! I'm looking forward to your wedding on ice!"
But not all Chinese fans are as enthusiastic.
Others disagree with the public wedding, arguing Zhao and Shen are "using their wedding to make money" and "the wedding itself wastes a lot of money."
FOLLOW THIS TOPIC