Pyongyang promotes N. Korean nuclear chief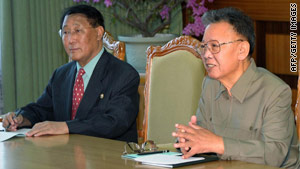 Kang Sok Ju, pictured left in January 2009, is a close confidant of Kim Jong Il
STORY HIGHLIGHTS
The architect of the North's nuclear program has been appointed vice premier
The move comes ahead of a rare meeting of the ruling party next week
Speculation is rampant about a possible handover of power from Kim Jong Il to his son
The North's nuclear arms program has prompted worldwide concerns and harsh sanctions
(CNN) -- The architect of North Korea's nuclear arms program has been promoted to vice premier of the country's Cabinet, state-run media said on Thursday.
Kang Sok Ju, a close confidant of North Korean leader Kim Jong Il, has engineered the development of the North's nuclear program for nearly two decades. International concerns about the North's nuclear capabilities have led to harsh economic sanctions against the secretive communist country.
Kang's promotion comes ahead of a rare meeting of the ruling Korean Workers' Party next week, which might set the stage for the handover of power from Kim Jong Il to his youngest son.
The official Korean Central News Agency also said Thursday that the North's top arms negotiator, Kim Kye Gwan, was promoted to first vice minister of foreign affairs. He takes over Kang's old job.

Video: A new leader for North Korea?

Video: North Korea after Kim Jong Il
Kim has been North Korea's lead representative in the six-nation talks over the North's nuclear arms program.
KCNA also said Thursday that Ri Yong Ho was appointed vice minister of foreign affairs. Ri has been another key negotiator in the six-nation nuclear talks.
Speculation is rampant that North Korea's political leaders are working to set the stage for a possible handover of power from Kim Jong Il to his son Kim Jong Un.
The North has said that its ruling party will meet on September 28, after last convening its delegates more than four decades ago.
Analysts think succession plans have accelerated in North Korea because the elder Kim, 68, is in poor health after suffering a stroke.
Under the elder Kim's leadership, the North has poured money into its military, nuclear and missile programs while its people have gone hungry.
North Korea has acknowledged producing roughly 40 kilograms of enriched plutonium -- enough for about seven nuclear bombs, according to the U.S. State Department.
The six-nation nuclear talks involve the United States, North Korea, China, South Korea, Japan and Russia. Dialogue halted last year after the U.N. Security Council condemned North Korea's launch of a long-range rocket, saying it violated a resolution banning ballistic missile testing. The North expelled U.S. nuclear experts and U.N. nuclear inspectors after the rebuke.
FOLLOW THIS TOPIC