British national kidnapped in Afghanistan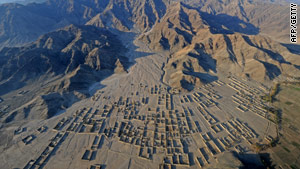 Kunar province, the area of Afghanistan where a British woman and three Afghans went missing on Sunday.
STORY HIGHLIGHTS
NEW: A search operation is now underway in Kunar province, a local official says
The kidnapped people are "healthy," the official claims
The foreigner was seized along with three other people after a gun battle, he says
Britain's Foreign Office says it is investigating
Kabul, Afghanistan (CNN) -- A British woman has been kidnapped in Afghanistan along with two Afghan drivers and a security guard, an Afghan official told CNN Monday.
The four were kidnapped after an exchange of gunfire Sunday in the Chawkay district of eastern Kunar province, local governor Abdul Marjan Adel said.
Adel said a search operation in the Kunar village of Petak is being conducted by Afghan and international forces who arrived by helicopter.
The four are being held in a "very remote area," he added.
"According to information and report we have the kidnapped people are in Dewcar valley and they are healthy," Adel said.
Provincial officials have created a council of district elders, religious scholars and provincial council members to negotiate with the abductors, he said.
Adel said he did not know who the kidnappers are.
Britain's Foreign Office confirmed Monday that a "British national has been abducted in Afghanistan."
Officials have not released additional information about the person's identity or indicate what the person was doing in Afghanistan, but British media have reported that she is an aid worker.
"We are working with other international partners to urgently investigate these reports," the Foreign Office said.
CNN's Samson Desta and Matiullah Mati contributed to this report.
FOLLOW THIS TOPIC