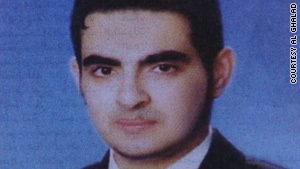 Humam Khalil Abu-Mulal al-Balawi is believed to be the suicide bomber who killed seven CIA operatives last December.
STORY HIGHLIGHTS
Jordanian, CIA officials had concerns about informant's reliability, U.S. official says
Review found those concerns were not passed on to officers at the base, official says
Informant set off bomb at CIA base in Khost, Afghanistan, killing himself and nine others
Official cites "excessive reliance" on informal communications in this case
Washington (CNN) -- Prior to a suicide attack on a CIA base in Afghanistan last December, some people within the CIA and the Jordanian intelligence service were skeptical about the reliability of a Jordanian informant, but those concerns were not passed on to officers on the base, according to a U.S. intelligence official.
A Jordanian intelligence officer told his U.S. counterpart in Amman, Jordan, that Humam Khalil Abu-Mulal al-Balawi might be working for al Qaeda and could be attempting to lure the Americans into a trap, but "unfortunately, some of those concerns weren't properly documented or conveyed through formal channels," the U.S. official said.
The findings are part of a just-completed CIA review of the attack, in which al-Balawi detonated a suicide bomb concealed under his clothing, taking seven CIA employees and two other people with him.
CIA director's lessons from the attack
Al-Balawi initially had been recruited by the Jordanian spy agency and brought to the attention of the CIA. He had come to the base in Khost, Afghanistan, for his first face-to-face meeting with CIA officers to discuss information he was believed to have on Ayman Zawahiri, al Qaeda's second in command.
When he got out of the car, and before a security search, he triggered the bomb. Killed were CIA officers, agency security contractors, the Afghan driver and a Jordanian intelligence officer assigned to al-Balawi. Six CIA employees were seriously injured.
The U.S. intelligence official said the concerns about al-Balawi did not make their way to the right people, including those at the base who might have been more cautious in dealing with the man they thought could be a valuable asset.
Personnel on the ground there were not responsible for vetting al-Balawi, and they believed others had done so when they let him on the base, the source said.
Al-Balawi might have been found out if there had been better communication within the CIA, said the official.
"In this case there was excessive reliance on informal communications, such as e-mails and instant messaging," the intelligence official said, "and more should have been conveyed through formal channels -- that is, cables from the field."
In a message to employees on Tuesday, CIA Director Leon Panetta said the review by 14 agency officers recommended 23 changes to CIA management oversight, communications, training and security procedures.
One of the changes requires informants to be searched in more isolated areas by far fewer CIA officers.
The U.S. intelligence official said Panetta decided not to pin blame on individuals because he feels this was a systemic failure and because the deaths of the CIA personnel in Khost means all of the facts will never be known.
The CIA internal report, along with a just-completed outside review, will be sent to the intelligence agency's inspector general, who might have different or additional recommendations.
FOLLOW THIS TOPIC