STORY HIGHLIGHTS
George Town is the capital of Malaysian state of Penang
Cheong Fatt Tze merchant house was restored in early 1990s
Led to mass restoration of George Town's old buildings
The town now has UNESCO World Heritage status
George Town, Malaysia (CNN) -- There is a sublime beauty about Penang's ruined buildings; suffused with melancholy, they sit like jilted lovers, neglected and brooding in the gathering undergrowth. Each relays an echo from the past, as its story crumbles and fades.
I'm slightly obsessed with ruins, and that makes Penang a particularly enchanting destination for me. But the number of house-wrecks in this former British colonial trading post is dwindling as a massive regeneration is underway.
Two years ago part of the capital, George Town, won UNESCO World Heritage Status, putting it on a par with Angkor Watt, the Taj Mahal and the Egyptian Pyramids.
Now the insidious plants that were slowly smothering neglected houses and government offices are being prized from their victims.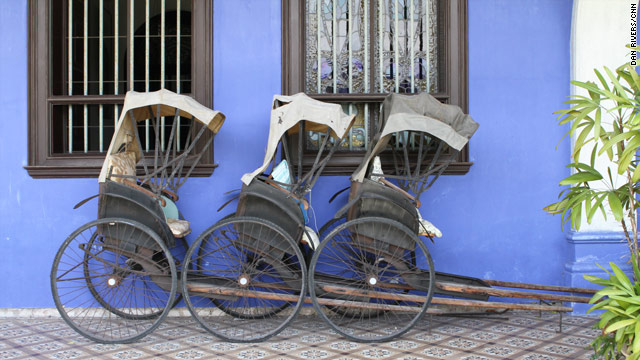 Gallery: Penang's architectural jewel
The success of the project even surprised me, because if you look around the whole of the area almost every building has been restored.
--Laurence Loh, architect
Many here credit the 2008 UNESCO listing to one man: Laurence Loh. His remarkable work to save an exquisite Chinese merchant house, the Cheong Fatt Tze Mansion, has become a paragon of excellence for Asian conservation.
With a lightness of touch that celebrates the imperfections of an old building, he has kick-started a restoration revolution in Penang.
"When I took over this project my main vision was to create a benchmark project for the whole of Penang and Malaysia. Obviously this house has all the ingredients to create a project of that impact," he told CNN.
"The success of the project even surprised me, because if you look around the whole of the area, you will find that almost every building in the vicinity has been restored and when we first took this over none of the buildings were in a very good shape. It's a very bottom-up area regeneration."
The story of Loh's relationship with the Cheong Fatt Tze Mansion is fascinating.
He is an architect by profession, more used to building ultra modern condos and houses. But he'd always been aware of the mansion, sitting as it does at the back of his old school.
During his childhood, it had fallen into severe disrepair and Loh assumed it was a dilapidated temple, because of the extensive use of intricate Chinese tiles on the gable ends; 34 families were tenants in the cluttered rooms that used to be so grand.
Developer friends of Loh's had eyed the plot, thinking of demolishing the old house and building a skyscraper. But thankfully, they were deterred by the problems of evicting so many sitting tenants.
It was only on the death of the last son of the man that built this magnificent confection, that it was released from a restrictive family trust in 1989. Loh was tipped off that the sale was imminent and managed to befriend a sympathetic agent, to close the deal.
He paid about $6.4 million, but that was just the beginning of the outlay. It needed urgent work to replace rotting floors and joists, and the project began in 1992. What followed was a labor of love that spanned three years.
During the course of the works, Loh was careful to preserve the "spirit" of the building.
One personality dominates its past, the man that lavished so much money to build it, Cheong Fatt Tze.
He was one of the richest men in Asia when he died in 1916, having transformed himself from a penniless immigrant water-carrier in Indonesia, to an entrepreneur and politician with vast business interests, including gold mines, opium plantations, and even China's first vineyard.
He owned property across Asia, but Loh thinks the house in Penang must have been special, for it was here that he installed his favorite wife, the seventh of eight women that he married during his eventful life.
A photo of Cheong Fatt Tze and his wife, damaged by termites, to give it a charming patina, stare out from the back of the central courtyard, almost as if they are icons in an orthodox church, awaiting veneration.
Now the Mansion is part boutique guesthouse, part museum, but is also in the vanguard of heritage conservation in Penang. Loh is now involved with helping to save other historic buildings here. One project, involves converting a row of seven terraced houses into a small hotel.
Australian Karl Steinberg is behind the project and says the Cheong Fatt Tze Mansion was a revelation, showing just what could be achieved with sensitivity and imagination.
"Laurence is the visionary, Laurence is the leader he's so far down the track we are trying to follow in his wake... Laurence has set a whole new level of conservation," Steinberg told CNN.
But Laurence is also keen that Penang shouldn't be turned into a museum theme park. He thinks the UNESCO listing will help preserve not only the architectural treasures of Penang, but also its culture richness, trades, cultures and communities that are fast disappearing elsewhere.
Loh also thinks Penang's listing can be a force for political change.
"The real thrust of why I pushed for Penang to be a World Heritage Site is because it brings in a new paradigm of management. You are obliged to, for example, to be involved in public consultation. Public involvement is encouraged, public empowerment is encouraged."
After years of decline, suddenly Penang is gripped with new vitality, the sort of energy that would have perhaps even spread a smile across the impassive face of Cheong Fatt Tze himself.
FOLLOW THIS TOPIC