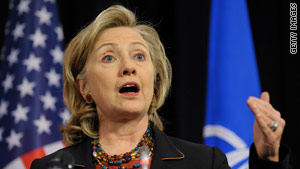 Hillary Clinton said the United States is willing to serve as mediator in a disagreement between Japan and China.
STORY HIGHLIGHTS
Clinton: Peaceful relations are "in all of our interest"
Uninhabited islands have stirred up tension between China and Japan
Clinton says islands "are part of our mutual treaty obligations"
(CNN) -- U.S. Secretary of State Hillary Clinton tried to defuse tensions between China and Japan, a strategic U.S. partner, on Saturday, asking the two rival nations to return to negotiations over a group of Pacific islands under dispute.
During a press conference at the ASEAN (Association of Southeast Asian Nations) summit in Hanoi, Vietnam, Clinton said the United States is willing to serve as mediator in the disagreement, which began to simmer last month when Japan detained a Chinese vessel that collided with Japanese boats in the disputed waters.
"We've recommended to both [Japan and China] that the United States is more than willing to host a trilateral where we would bring China and Japan and their foreign ministers together to discuss a range of issues," Clinton said Saturday.
"It is in all of our interest for China and Japan to have stable, peaceful relations," she said,
A senior U.S. official told CNN that Clinton had raised the issue of three-way talks with Chinese State Counselor Dai Bingguo on Hainan Island and Foreign Minister Yang Jiechi in Hanoi on the sidelines of the ASEAN summit.
She also raised it with Japanese Foreign Minister Seiji Maehara in Hawaii earlier in the week, the official said.
China and Japan have historically laid claim to the islands, which lie between the two nations. Called Senkaku by the Japanese and Diaoyutai Islands by China, the uninhabited islands have become the center of an escalating diplomatic spat.
On Friday, China's foreign ministry spokesman showed some irritation over Clinton's claim that the Senkaku Islands fall within the scope of a U.S.-Japan security treaty.
"With respect to the Senkaku Islands, the United States has never taken a position on sovereignty, but we have made it very clear that the islands are part of our mutual treaty obligations, and the obligation to defend Japan," Clinton said Saturday. "We have certainly encouraged both Japan and China to seek peaceful resolution of any disagreements that they have in this area or others."
Ma Zhaoxu, the foreign ministry spokesman, said China "will never accept any word or deed that includes the Diaoyu Islands of the U.S.-Japan Treaty of Mutual Cooperation and Security."
Diplomatic tensions peaked in September after Japanese authorities arrested a Chinese fishing captain near the islands and detained him for more than two weeks.
The economic repercussions were immediate. The Chinese government cut off high-level talks with Japan on coal and increased commercial flights between the countries. The dispute also threatens planned talks on a 2008 agreement to jointly develop gas fields located near the disputed islands and in other parts of the East China Sea.
The China-Japan dispute parallels U.S. efforts to curb Chinese claims for territory in the South China Sea, out of fear the increasingly powerful Chinese military could seek to dominate Asian waters.
At a regional security forum in Vietnam in July, Clinton waded into thorny territorial disputes in the area, saying Washington was concerned competing claims to the territory undermined international maritime law and commerce.
While China has sought to negotiate territorial rights to the South China Sea individually with countries in the region, the ASEAN nations have called for a collaborative resolution. China maintains the disputes should not be "internationalized."
In addition to rich areas for fishing, the islands in the South China Sea are believed to have large oil and gas reserves and surround busy sea lanes shuttling resources for China's fast-growing economy. Beijing has warned America that foreign interference in the waters off its southeastern coast constitute an affront on its sovereignty.
CNN's Elise Labott contributed to to this report.